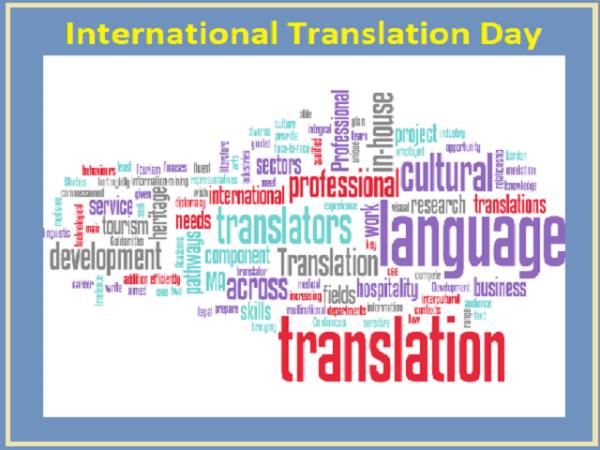 International Translation Day: Extinction of many Nigerian languages looms—LAN
By: Abara Blessing Oluchi
Fri, 30 Sep 2022 || Nigeria,
Experts have raised alarm on possible extinction of many Nigerian languages as the country joins the rest of the world to celebrate 2022 International Translation Day. The day, which is always observed annually on September 30, globally, is aimed at raising awareness about translation and languages, which play important roles for societies' development. The day is used as an opportunity to pay tribute to the work of language professionals, which plays an important role in bringing nations together, facilitating dialogue, understanding and cooperation, and contributing to the development and strengthening of world peace and security. The theme for this year's International Translation Day is "A world without barriers".
The UN General Assembly, on May 24, 2017, adopted a resolution for language professionals and announced September 30 as International Translation Day. International Federation of Translators, FIT, which was established in 1953, launched the idea of recognizing Translation Day in 1991 to promote the profession all over the world.
The date was chosen for the celebration, in honour of the Bible's translator, St. Jerome, who is regarded as the father of translators. "St. Jerome was a priest from North-East Italy, who is known mostly for his endeavour of translating most of the Bible into Latin from the Greek manuscripts of the New Testament. He also translated parts of the Hebrew's Gospel into Greek," the UN website mentioned.
Meanwhile, the Nigerian Institute of Translators and Interpreters (NITI), during their 17th annual conference, opined that Nigerian languages are facing extinction and need to be saved through translation and writing, within those languages. The NITI further urged the government to enhance the funding of research in language institutes and centres engaged in terminology and lexicography development of Nigerian indigenous languages.
The Executive Secretary, National Institute for Cultural Orientation (NICO), Mr Ado Muhammed Yahuza, added "more petrol to the fire", by saying that some Nigerian Languages might go into extinction if urgent measures would not be taken to reverse the trend. He spilled out this at the 2nd edition of the Nigerian Indigenous Language Programme (NILP) in Abuja, shivering, that some Nigerian languages, including Igbo and Yoruba, may not survive the next 50 years.
"The alarm has been raised in socio-linguistic circles that over 90 per cent of the world's 7,000 languages are likely to go into extinction in the next century, the situation is not different for Nigeria. According to experts, more than half of the over 400 languages in Nigeria are endangered. More alarming is the speculation that languages such as Igbo and Yoruba, may not survive the next 50 years if urgent measures are not taken to reverse the trend," he said.
The Linguistic Association of Nigeria (LAN) had also said earlier, that unless proactive steps were taken, more than 50 minority languages in the country might become extinct in a few years. Prof. Harrison Adeniye, disclosed this in Jos in an interview with newsmen. He also spoke of the urgent need to revive moribund minority languages because of their importance to the cultural good of the country, and called on Federal Government to "reawaken" the national language policy to prevent the minority languages from going extinct.
"Let me use this opportunity to advise the federal government on the need to reawaken the national language policy project, which is moribund already. There is also an urgent need to establish language centres to prevent possible extinction of most minority languages in the country," he said.
He also stressed the urgent need for the establishment of language learning centres, for minority languages, which, according to him, would help in preserving more than 50 languages from going extinct. He further called on parents to ensure they would always speak their "mother tongue" to their children, as a way of preserving Nigeria's rich cultural heritage.
Meanwhile, Google Translate has added 24 new languages in a move to encourage more non-English speakers to benefit from the internet, as announced earlier this year. Although the new languages included those being spoken in some African countries, none of the Nigerian languages made the new addition. Although Nigeria has over 525 native languages, only the three major ones, Hausa, Igbo, and Yoruba are available on Google Translate. These were added by Google in 2014.
According to Google, over 300 million people speak the newly added languages — like Mizo, used by 800,000 people in the far northeast of India, and Lingala, used by over 45 million people across Central Africa. As part of this update, indigenous languages of the Americas (Quechua, Guarani and Aymara) and an English dialect (Sierra Leonean Krio) have also been added to Translate for the first time.
Announcing the new additions via a blog post, Google said: "For years, Google Translate has helped break down language barriers and connect communities all over the world. And we want to make this possible for even more people — especially those whose languages aren't represented in most technology. So today we've added 24 languages to Translate, now supporting a total of 133 used around the globe.
"We're grateful to the many native speakers, professors and linguists who worked with us on this latest update and kept us inspired with their passion and enthusiasm. If you want to help us support your language in a future update, contribute evaluations or translations through Translate Contribute," it added.
It is often said that a tree is easily identified by its fruit. In the same vein, a nation or ethnic group is easily identified through language. This is an indication that if a language is allowed to go into extinction, the entire group, speaking the same, may be forgotten. The only solution is to ensure that action is taken urgently, as International Translation Day is celebrated today.
Back to News