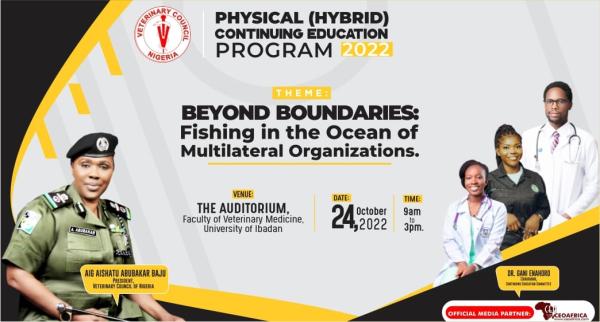 Veterinary Council of Nigeria, UI hold continuing education programme in Ibadan
By: Abara Blessing Oluchi
Mon, 24 Oct 2022 || Nigeria,
The Veterinary Council of Nigeria, in collaboration with the University of Ibadan has organized a continuing education programme, holding at the Faculty of Veterinary Medicine of the university.
The programme, which has already started this morning, is expected to have the President, Veterinary Council of Nigeria, AIG Aishatu Abubakar Baju, in attendance.
In a chat with the Dean, Faculty of Veterinary Medicine of the University of Ibadan, who is also the host, Prof. Eunice Olufunke Ola-Davies, the first professor of Veterinary Biochemistry in Africa, explained that all arrangements had been made ahead, to ensure the success of the event.
The chairman of the Continuing Education Committee, Dr Gani Enahoro, explained that the programme, with the theme, "Beyond Boundaries: Fishing in the Ocean of Multilateral Organisations" will be held both physically and virtually (hybrid).
He further explained that many experienced researchers and stakeholders, including Profs Olanike Adeyemo, David Eyarefe, Lushaikyaa Alam, Godwin Chukwuka Isitor, Drs Jimmy Johnmark, Jones Okoye, R.A.M. Adedokun, Egbetade Adeniyi, Frank Abudei, among others, will be speaking at the event, which will hold till 3:00 in the afternoon.
Back to News