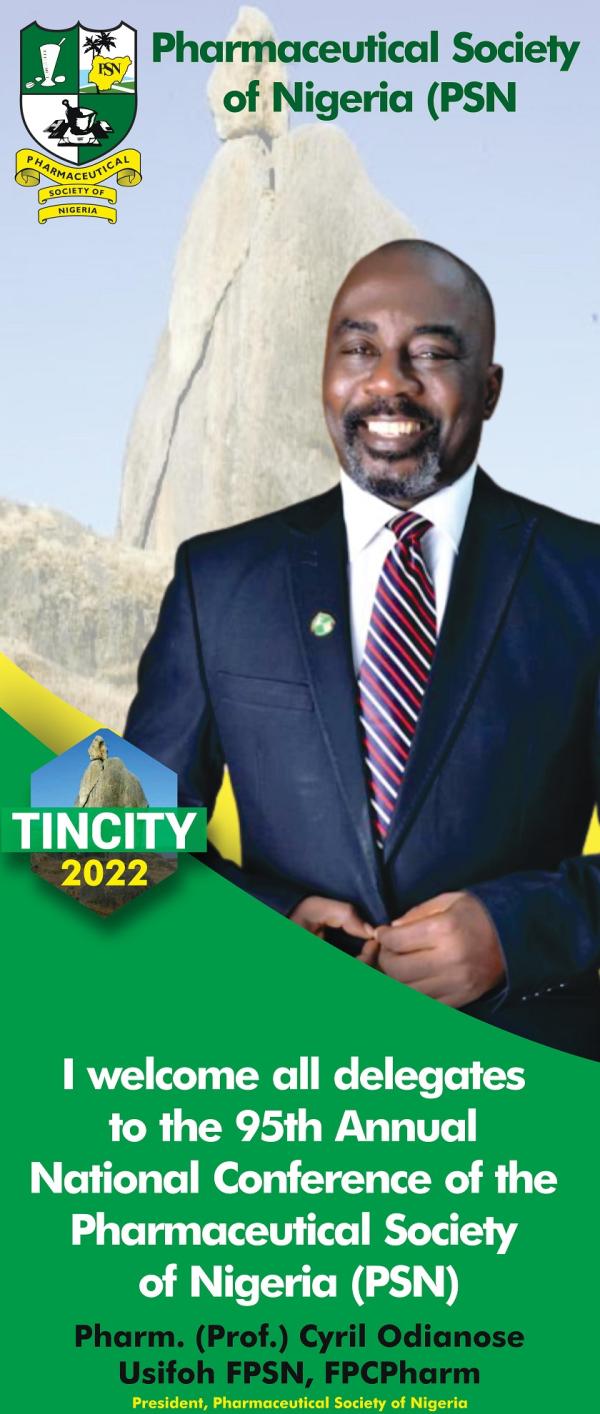 PSN 95th National Conference kicks off today in Jos
By: Abara Blessing Oluchi
Mon, 31 Oct 2022 || Nigeria,
The 95th Annual National Conference of the Pharmaceutical Society of Nigeria (PSN), tagged "Tin City 2022", with the theme, "Medicine Security in an Unstable Economy", has started today, Monday, October 31 and is expected to end on Saturday, November 5, 2022, at Chrispan Suites and Events Centre, Rayfield, Jos, Plateau state.
In an interview with CEOAFRICA, the president of the PSN, Pharm. (Prof.) Cyril Odianose Usifoh stated that during the conference, the country's presidential candidates, who have been invited for an interactive forum to speak on "Synergising Healthcare Professionals for Effective Delivery: Post 2023 in Context", will speak and respond to chats on their plans for the health sector, as the PSN intends to partner with the eventual winner to reform the sector.
He however, stressed that the interaction, which will hold on Thursday, November 3, is strictly not for campaign purposes or manifesto presentation, as the invitees will not be given the opportunity for such, as he spoke on the conference.
"The theme of this conference was carefully chosen. When we came in, about one year ago, the country was still struggling with the outcome of the COVID-19 pandemic. We all know what happened during the pandemic and how countries fared. Some countries totally stopped the exportation of pharmaceuticals, including sanitizers and facemasks. It was God's mercy that helped Nigeria to survive it. We have invited the presidential candidates for a chat on Thursday. We need to hear from them and see how they hope to improve the health sector and how we can partner with them to achieve that. Let me also say this, the interaction forum with presidential candidates is not an avenue for campaign, of course such opportunities would not even come up," he said.
Prof. Usifoh also spoke on other things that would be going on in the course of the conference, including plenary sessions, discussions, seminars, deliberations, adding that there would be a football match today.
He further assured that the conference is going to be filled with exciting moments, as pharmacists will have the opportunity of visiting many tourist sites of the "Home of Peace and Tourism" as well as having the platform to connect with colleagues, who share same interest as they do; the chairman of the opening ceremony is Nigeria's former Head of State, Gen. Yakubu Gowon (GCFR).
Back to News