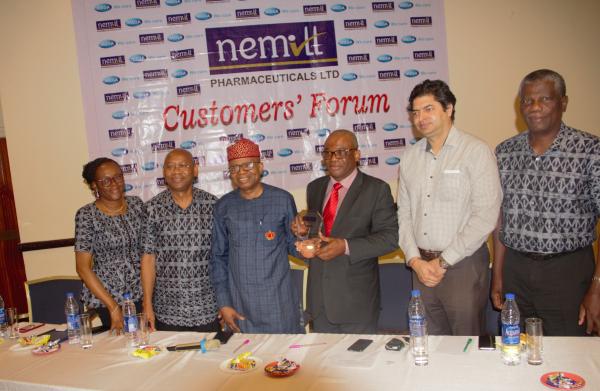 Participants share experiences as Nemitt Pharmaceuticals treats them to memorable customer appreciation
By: Abara Blessing Oluchi
Sat, 12 Nov 2022 || Nigeria,
Pharmacists, stakeholders and businessmen in the pharmaceutical sector have been treated to memorable experience by the management and staff of Nemitt Pharmaceuticals Ltd.
The event, which was the second edition of the Nemitt's Customers' Forum, had Pharm. (Prof.) Lere Baale, the Chief Executive Officer, Business School Netherlands International, Nigeria, as the chairman while Dr. Elijah N.A. Mohammed, the immediate past Registrar, Pharmacists Council of Nigeria (PCN) as guest speaker.
The event held on Thursday, November 10, 2022, at the Sheraton Lagos Hotel, Ikeja, Lagos; it started at exactly 9:30 in the morning and ended around 5:00 in the evening, with the theme "Optimising your Business in a Depressed Economy".
Dr Elijah N.A. Mohammed, the immediate past Registrar, Pharmacists Council of Nigeria (PCN), while speaking at the event noted that the ongoing review of the Pharmacy curriculum will see the trainees learn business.
The statement was in response to a concern raised by a participant, who lamented that Nigerian Pharmacy graduates are not taught the business aspect of Pharmacy, as the speakers, together with the Managing Director, Nemitt Pharmaceuticals, Pharm. Ernest Okafor had earlier stressed that Pharmacy is both a profession and a business.
Meanwhile, he had earlier explained some possible sources of funding a business, especially the pharmaceutical business, including personal savings, retained earning as well as loans, which he noted should be managed responsibly.
According to him, "There is no way you can run your business without having to borrow at some point. Borrowing is not bad but when you borrow you do so with common sense and know how to manage it."
Speaking on the importance of the event and the reliability of Nemitt Pharmaceuticals, in an interview with CEOAFRICA, he explained that the event was apt; adding that the brand is one of the most outstanding pharmaceutical companies in the country.
He also explained that he had known the company for a very long time and urged all to emulate the pace that Nemitt has set in the industry, urging colleagues to always release their staff for trainings.
The MD, Nemitt Pharmaceuticals, Pharm. Ernest Okafor, explained that the theme is aimed at proffering solutions for the survival of pharmaceutical business in the wake of inflation, recession and harsh government's policies, which affect the economy.
He added that the first edition of the event had the theme, "Building to Last", to ensure that those who go into the business fully understand what it entails before doing so.
"In the first customers' forum, we had a theme, 'Building to Last'. You discover that most people enter pharmacy business without knowing what they are going into. It really impacted people.
"Pharmacy is both a business and a practice, and in doing that you must have business knowledge, you must have financial intelligence. This year we looked at several challenges ranging from inflation, bad government policies and saw the need to educate them on how to keep their business afloat despite the challenges," he said.
While thanking all who honoured the invitation and their numerous customers and clients across the nation and beyond, he explained that the event is a tool of driving home the company's core values which include resilience, focus, relationship, commitment, among others, stressing that business is a relationship; he noted that the company sees her customers and clients as partners.
In his remarks, Prof. (Pharm.) Baale, who is also a business strategist, stressed that money, staff welfare, pricing, collaboration and the Information Technology (IT) are indispensable to the growth and success of a business.
"Just make your staff happy. Your internal customers are your staff; if you make them happy, they will make their customers happy. Staff welfare is key. Money is crucial to any business. Be ready to adjust your prices, if not, you may have money without knowing that policies or market situation has reduced the purchasing power of the capital. Spend money on IT because it helps to reduce the possibility of theft. You will not be able to capture everything manually. Think of collaboration. Your negotiating power increases when you have chain," he said.
Participants heaped trucks of praise on the MD for this vision of helping his customers and clients grow by bringing them together to teach them the things that have made him stand out for over 23 years of the company's existence.
According to Pharm Omobolanle Adekunle, the COO, Bydow-Pharmacy, "It is actually great for Nemitt to be celebrating their customers, not just celebrating but imparting to us because the topic is what we need in this day and age. For them to think of the topic and how to make us do better, because Nemitt is actually doing better, it is commendable. Nemitt is doing well, I must confess."
Pharm Iyke Ugwu, the MD/CEO, Pharma Care Support, on his own part commended the group, while noting that his own company, along with others are customers to the distributor.
Pharm. Rosemary Nikoro,MD,Atsi Pharmacy Nig Ltd, Mr Femi Shoremekun, MD, Biofem Pharmaceuticals Ltd, Pharm Chi-Chi Ihegworom, among others, thanked them, urging them to keep doing what they have been known for, without relenting.
High point of the event was the launching of Nemitt e-commerce platform to enhance seamless access to the Nemitt inventory by their customers and later, the presentation of different prizes, courtesy of the partnership with Mega Life Sciences.
Emesingha Oche, a representative of the Mega Life Sciences, explained that his company is a Thai-Australian multinational company that promotes businesses, explaining that their brand has seen Nemitt as a reliable name, since getting to know them about a decade ago.
Mega Lifesciences Nig Ltd is the platinum sponsor of the event,an acclaimed global brand used the occasion to introduce two new products;iicare soft gel caps, an eye antioxidant to treat retinopathy and Maxxomega3 caps , a high strenght, premium qualty Omega3 fish oil of immense benefits to patients.
The event was well attended by Nemitt customers across the country.
Back to News