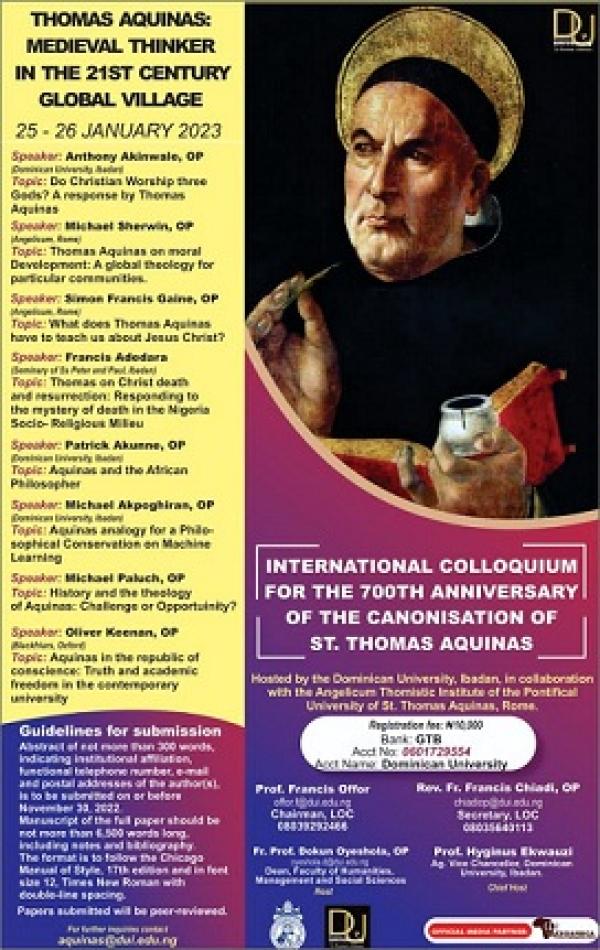 Dominican University, Pontifical University to celebrate Aquinas' canonisation anniversary with global colloquium
By: News Editor
Mon, 14 Nov 2022 || Nigeria, Ibadan, Oyo State
Dominican University, Ibadan, Nigeria, in collaboration with the Angelicum Thomistic Institute of the Pontifical University of St Thomas Aquinas, Rome, organizes an international colloquium for the 700th anniversary of the canonization of St Thomas Aquinas.
The event, themed "Thomas Aquinas: Medieval Thinker in the 21st Century Global Village", is set to hold on 25th and 26th January, 2023.
The organisers have also called for submission of research papers, which would help to deepen the understanding of the theme, ahead of the conference.
According to the request, those who wish to submit their papers, individually or collectively, should ensure that the paper's abstract, of not more than 300 words, gets to the organisers on or before November 30, 2022.
The manuscript of the main work should not exceed 6,500 words, typed in Times New Roman font, size 12, with double-line spacing; all the addresses, contact numbers, email and postal addresses of the author(s) should be functional; referencing should be Chicago Manual of Style, 17th edition.
The chief host is the Acting Vice Chancellor, Dominican University, Ibadan, Fr Prof. Hyginus Ekwauzi while the Dean, Faculty of Humanities, Management and Social Sciences, Fr Prof. Dokun Oyeshola, OP, is the host.
Registration for the event costs N10,000 only that should be paid to the account details stated below:
Account Name: Dominican University
Bank: Guarantee Trust Bank (GTB)
Account Number: 060 1729 554.
Speakers and researchers will be attending to make their contributions from different parts of the world; further details could be sourced by mailing aquinas@dui.edu.ng.
Prof. Francis Offor is the Chairman, Local Organising Committee, while Rev. Fr Francis Chiadi, OP, is the Secretary; see the flyer for their contact numbers and email addresses.
Back to News