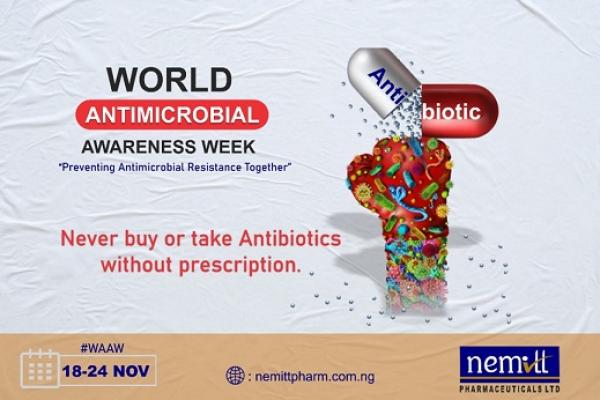 World Antimicrobial Awareness Week: Never buy or take antibiotics without prescription—MD Nemitt Pharmaceuticals warns
By: News Editor
Fri, 18 Nov 2022 || Nigeria, Lagos State
The Managing Director, Nemitt Pharmaceuticals Ltd, a leading brand in the pharmaceutical sales and supply chain in Nigeria, Pharm. Ernest Okafor, has warned the general public against taking antibiotics without a physician's prescription.
This is contained in an exclusive statement sent to CEOAFRICA by the veteran pharmacist, who has been practising the profession for over three decades, as his pharmaceuticals' company, Nemitt, joins the rest of the world to celebrate the World Antimicrobial Awareness Week (WAAW), holding between 18th and 24th November, 2022.
The 2022 WAAW's theme is "Preventing antimicrobial resistance together"; in a bid to make the message of the theme more intelligible to the general public, Pharm. Okafor formulated a subtheme, "Never buy or take antibiotics without prescription", explaining that one of the ways the populace could help in winning the war against Antimicrobial Resistance (AMR) is by avoiding self-medication and self-prescription, especially for the antimicrobials.
An antimicrobial is an agent that kills microorganisms or stops their growth, while leaving the host organism unharmed, the term for this is selective toxicity. Antimicrobial medicines can be grouped according to the microorganisms they act primarily against. For instance, antibiotics are used against bacteria, and antifungals are used against fungi. They can also be classified according to their function.
Meanwhile, agents that kill microbes are microbicides, while those that merely inhibit their growth are called bacteriostatic agents. The use of antimicrobial medicines to treat infection is known as antimicrobial chemotherapy, while the use of antimicrobial medicines to prevent infection is known as antimicrobial prophylaxis.
In a simpler term, the World Health Organization (WHO) has defined antimicrobials(which includes antibiotics, antivirals, antifungals and antiparasitics)as medicines used to prevent and treat infections in humans, animals and plants. As evident in the names of the antimicrobial elements, antiparasitic compounds act on infectious diseases like malaria, leishmaniasis, etc. In other words, antiparasitics act on parasites. Antivirals act on diseases caused by viruses, like the Human Immunodeficiency Virus (HIV), etc.
Antimicrobial Resistance (AMR), on the other hand, occurs when bacteria, viruses, fungi and parasites change over time and no longer respond to medicines making infections harder to treat and increasing the risk of disease spread, severe illness and death. As a result of drug resistance, antibiotics and other antimicrobial medicines become ineffective and infections become increasingly difficult or impossible to treat.
According to the WHO, the main drivers of antimicrobial resistance include the misuse and overuse of antimicrobials; lack of access to clean water, sanitation and hygiene (WASH) for both humans and animals; poor infection and disease prevention and control in health-care facilities and farms; poor access to quality, affordable medicines, vaccines and diagnostics; lack of awareness and knowledge; and lack of enforcement of legislation. The WHO also laments that AMR can be evident in all living organisms, adding that if people's attitude does not change, the war on the AMR may never be won.
The day is celebrated by four special agencies of the United Nations, including the Food and Agriculture Organization (FAO), the United Nations Environment Programme (UNEP), the World Health Organization (WHO), and the World Organisation for Animal Health (WOAH).
The World Health Organization introduced World Antibiotics Awareness Week (WAAW) in May 2015. This came after European governments opted for an action plan on antibiotic resistance in 2011. This step was taken into consideration to raise awareness on a global level and to take initiatives that seem to be necessary.
Nemitt Pharmaceuticals started its full operations on the 29th day of April, 1999, having been incorporated in 1988.The company renders services ranging from wholesale and supply of drugs and pharmaceuticals, sourcing, consultations, pharmaceutical brokerage, medical procurement like ensuring that all equipment for best and efficient medical practice are made available. Facilities like thermometers, cooling van, warehouse, delivery vans are used to ensure that products are in the appropriate temperature and are promptly delivered to the customers.
Back to News