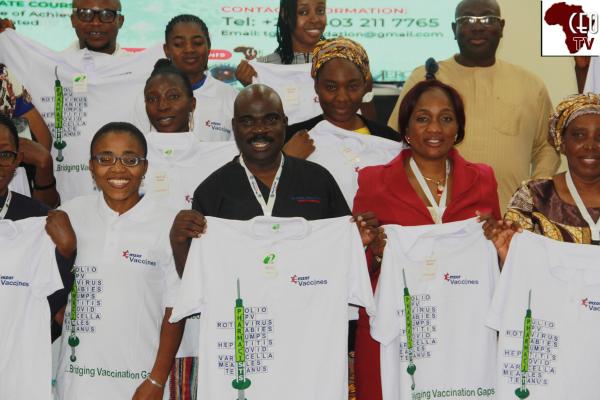 "Tin City 2022": Pharmacists hold intensive hands-on training on vaccination, others (Photos)
By: Abara Blessing Oluchi
Tue, 22 Nov 2022 || Nigeria,
Thousands of pharmacists across the nation have undergone an intensive hands-on training sessions on vaccination and other key medical necessities.
The training, which was part of the activities to mark the just concluded 95th Annual National Conference of the Pharmaceutical Society of Nigeria (PSN), was organized by Trans-Regional Policy.
Recall that CEOAFRICA had reported that the event started on the 31st October, being Monday and ended on Saturday, November 5, 2022, at the prestigious Chrispan Suites and Events Centre, Rayfield, Jos, in Plateau state.
Tagged, "Tin City 2022", with the theme, "Medicine Security in an Unstable Economy", the conference aimed at helping to chart a course for the future of medicine and healthcare in the country, as explained by the president of the PSN, Pharm. (Prof.) Cyril Odianose Usifoh.

Among the personalities that graced the ocassion were; former Head of State, Gen. Yakubu Gowon (Rtd) and Chief Executive of the National Drug Law Enforcement Agency (NDLEA), Brig. Gen. Mohammed Buba Marwa (Rtd), together with other guests and officials of the Trans-Regional Policy.
Others present include national officials, states' branches' officials, as well as those in charge of technical units of the society.
As part of the conference, the director of Trans Generational Foundation, Dr Samuel Adekola in partnership with Nigerian Pharmacist in America, trained many pharmacists in attendance on vaccination and life supports emergency. Dr Adekola reiterated the urgent need for community pharmacist to get involve in the vaccination project to safe and protect lives. He expressed joy for the previous training that he has done as the community pharmacists in Ibadan, Oyo state capital have vaccinated over three thousands people, two months after the training exercise.
He admitted that regular vaccination training exercise will empower the community pharmacist at the community base and this will help to restore the confidence of the public on vaccines as the community pharmacist is viewed as a trusted community helper.

Dr Abubarka Amal, who came for the program from the US. He commended the vaccination and the life support training exercises, describing them as life saving programs which must not be taken for granted. He urged the general public to key into vaccinations as a means to eradicating vaccine preventable diseases. Dr Emmanuel from US held that no amount is much to save a life.

Speaking to one of the participants, pharm. Eudorah Chukwukaora expressed her joy which she describes as an empowerment for the community pharmacists to make a positive difference in the health of their community. She assured that with the training, vaccination can easily get to the grassroots.
See more photos below: