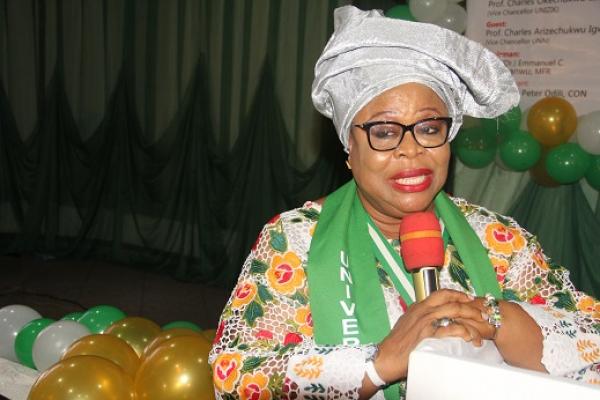 'Lions' and 'Lionesses' are everywhere—UNAA President
By: Abara Blessing Oluchi
Thu, 24 Nov 2022 || Nigeria,
The National President, University of Nigeria Alumni Association (UNAA), Lady Doris Okoro, PhD, has declared that any country where a graduate of the University of Nigeria, popularly referred to as Lions and Lionesses, cannot be found does not have a single graduate.
Dr Okoro made this remark in an exclusive interview with CEOAFRICA, during the 2022 icons' award celebration of the association, held in Port Harcourt recently.
While responding to questions regarding how she intends to reach the alumni of the university towards making contribution to the association's multimillion-naira project, Lady Doris explained that she knows how to mobilize people for a task, adding that she had done same in the past.
"I was the international relations chairman for 8 years and during my tenure I planted the United Kingdom's chapter that is making waves now. I started with Canada, South Africa is on the pipe line, Ghana is there, Cameroon is there and we are going places. Just like the saying any place you don't find an Igbo man leave that place, any country you don't find a lion or lioness please no graduate exists in that country.
"I am a mobiliser of funds and human beings. I have done that at different associations since in the church. One thing people require from you is accountability, sincerity of purpose; having being part of this movement for some time, my members believe and trust in me. You can see that the chairman of this occasion is not disposed to be here physically but he decided to connect on zoom, and this a man that has touched my life. I have worked with him, as his branch president, and I made impact," she said.
Meanwhile, she could not hide her feeling of ecstasy as she expressed her profound joy at the level of response by many alumni in the association's quest to actualize the 600-million-naira project of an alumni centre in few months, she expressed high level of optimism that the building will be completed in less than a year.
According to her, "I feel fulfilled, I feel happy, I feel I have started well because all our senior lions well-positioned, and our icons are keying in, they are beginning to identify with us, and by the way this is my first function. I have started planting for my university and before I finish my tenure, I think the harvest will be very bountiful."
She further expressed her gratitude, as she thanked and promised to continually pray for all the alumni, who have identified with the association and the project.
Back to News