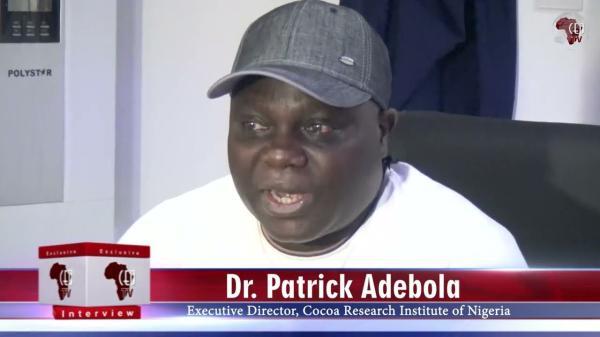 World AIDS Day: CRIN ED calls for healthy dieting
By: Abara Blessing Oluchi
Fri, 2 Dec 2022 || Nigeria,
The Executive Director, Cocoa Research Institute of Nigeria (CRIN), Dr Patrick Olusanmi Adebola, has stated that healthy nutrition is necessary for building stronger immune system against infections and diseases. This he said as he joins the rest of the world to commemorate the day set aside, globally, to remember one of the most dreaded infectious diseases in history, Acquired Immune Deficiency Syndrome (AIDS). This is a chronic stage of the Human Immunodeficiency Virus (HIV), when the patient's resistance to diseases has been broken by the virus, making such a fellow vulnerable to all manner of illnesses.
In a chat with CEOAFRICA's correspondent, the plant scientist advised that adequate and balanced diet is capable of enabling the body to fight most diseases that lead to death today. According to him, many Nigerians are yet to appreciate the importance of good food that comes from Agriculture. He noted that one of the reasons people still get to the chronic stage of the HIV, in addition to inconsistent medication, is lack of healthy diet.
"It is disheartening that many Nigerians do not appreciate our natural foods. Those natural nutrients they detest, in trying to appear civilized, are capable of boosting their immune system against many infectious diseases. While it is well-understood that some people with HIV, who get to the chronic stage, experience that because of their low attention to medication, some also face the situation on account of diet. The earlier we return to farm and appreciate our local foods the better for all of us," he said.
He made this remark, while talking about many things in the chat. Meanwhile, every December 1 is dedicated to celebrating World AIDS Day. The idea is to solidarise with people infected and affected by the virus, as the world seeks to end the menace of the virus soon. The Centres for Disease Control and Prevention reported that the virus has been in existence since the late 1800s and it originated from Africa. It is believed to have been transmitted to man by some sets of primates, notably, chimpanzee.
The disease reportedly started transmitting in the 1930s and by the 1980s it had spread to almost every part of the world. The virus can be transmitted through diverse ways, including unprotected sex, blood transfusion, sharing sharp objects, contact with infected blood and some bodily fluids, transmission from mother to child and many others. However, the virus cannot be transmitted through body sweat or saliva.
There are basically three types of tests for the infection: antibody test, antigen test and nucleic acid test. Tests hardly ever detect an infection of 10 days or less. World AIDS Day was first observed in 1988 as a way to unite the forces fighting against AIDS across the globe. James W. Bunn and Thomas Netter were the first to observe the pandemic and raise awareness about the disease.
The theme of AIDS Day 2022 is "Equalize." This is conceived on the notion that inequalities on the basis of gender, age, race, social status hinder the goal of combating the monster as a global concern by 2030. Thus, by choosing this theme, it implies that everyone should unite in fighting those inequalities that stop people from getting the life-saving health care and support they need. This year's chosen subject is the most recent in a long line of concerns. Meanwhile, eight years is left for the evaluation of the 2030 agenda on HIV/AIDS.
According to the Joint United Nations Programme on HIV/AIDS (UNAIDS), in 2021, 1.5 million people became newly infected with HIV, bringing the total number of people living with HIV to 38.4 million. The same report also claimed that every week about 4,900 young women aged between 15 and 24 become infected with HIV, while adding that about 650,000 died of AIDS-related circumstances.
In what looks like restoration of hope and confidence, although HIV/AIDS has killed up to 40.1 million people and infected 84.2 million over the past 40 years, yet the 650,000 who died from AIDS-related illnesses in 2021, was down by 68 percent from the peak of two million deaths in 2004. This is a significant success, within 17 years. Such success suggests that the future is bright in the fight against the nightmare.
In addition to the above, since 2010, new HIV infections have declined by 32 percent, from 2.2 million to 1.5 million in 2021. Among children, new HIV infections have dropped by 52 percent, from 320,000 in 2010 to 160,000 in 2021. While it is worthy to note that there is still no cure for the epidemic, there are many effective HIV prevention, treatment and care options that can enhance the quality of life.
Nevertheless, it is worrisome to say that about 5.9 million people worldwide were not aware of their HIV status in 2021. This is saddening, considering the level of awareness that has been created globally on this. Be that as it may, the advice of the Executive Director, CRIN, Dr Adebola, is still valid. Natural foods have answers to many health questions in the world today.
Back to News