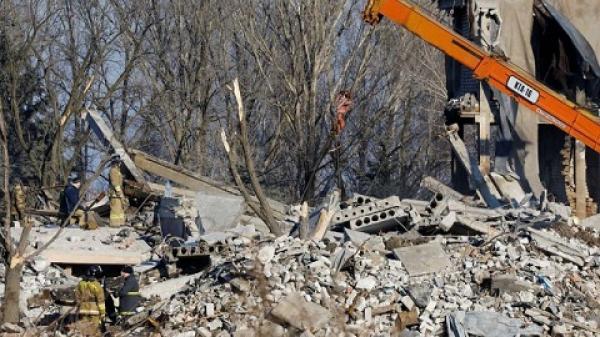 Russia blames its soldiers' mobile phone use for deadly missile strike
From: Agency Report
Wed, 4 Jan 2023 || Nigeria,
Russia's defence ministry on Wednesday blamed the illegal use of mobile phones by its soldiers for a deadly Ukrainian missile strike that it said killed 89 servicemen, raising the reported death toll significantly.
Moscow previously said 63 Russian soldiers were killed in the weekend strike. The ministry's reaction came amid mounting anger among some Russian commentators, who are increasingly vocal about what they see as a half-hearted campaign in Ukraine.
Most of the anger on social media was directed at military commanders rather than Russian President Vladimir Putin, who has not commented publicly on the attack which was another blow after major battlefield retreats in recent months, reports Reuters.
The Russian defence ministry said four Ukrainian missiles hit a temporary Russian barracks in a vocational college in Makiivka, twin city of the Russian-occupied regional capital of Donetsk in eastern Ukraine.
Although an official probe has been launched, the main reason for the attack was clearly the illegal mass use of mobile phones by servicemen, the ministry said.
"This factor allowed the enemy to track and determine the coordinates of the soldiers' location for a missile strike," it said in a statement issued just after 1:00 am (2200 GMT Tuesday) on Wednesday.
However, Semyon Pegov, a prominent Russian war correspondent awarded the Order of Courage by Putin in late 2022, questioned the ministry's reasoning.
In a Telegram post, Pegov said that Ukraine could have been able to locate the troops via drones and intelligence, not necessarily through mobile phones.
"The story of 'mobiles' is not very convincing," Pegov said. "I rarely say this - but this is the case when it would probably be better to remain silent, at least until the end of the investigation. As such it looks like an outright attempt to smear the blame."
Pegov also said that the number of casualties would rise.
"Unfortunately, their number will continue to grow. The announced data is most likely for those who were immediately identified. The list of the missing, unfortunately, is noticeably longer. I cannot disclose the sources, but I consider them reliable."
Ukrainian President Volodymyr Zelenskiy, who rarely comments on specific Ukrainian military strikes, made no mention of the attack in a video address on Tuesday.
Ukraine's military has said it launched a strike that resulted in Russian loss of equipment and possibly personnel near Makiivka. But it has given no further details.
Russian nationalist bloggers and some pro-Russian officials in the region put the Makiivka death toll in the hundreds, though some say that those estimates are exaggerated.
'MAJOR RUSSIAN OFFENSIVE'
Zelenskiy said Russia was set to launch a major offensive.
"We have no doubt that current masters of Russia will throw everything they have left and everyone they can round up to try to turn the tide of the war and at least delay their defeat," Zelenskiy said in a video address.
"We have to disrupt this Russian scenario. We are preparing for this. The terrorists must lose. Any attempt at their new offensive must fail," he continued.
A little known patriotic group which supports the widows of Russian soldiers is calling on Putin to order a large-scale mobilisation of millions of men and to close the borders to ensure victory in Ukraine.
Zelenskiy reiterated Ukrainian assertions that Moscow is planning a full-scale mobilisation, a step that Russian officials say is not currently being considered.
Putin plans to talk to Turkish President Tayyip Erdogan on Wednesday, Kremlin spokesman Dmitry Peskov told Interfax, the latest in a series of conversations the two leaders have had since the start of the war.
Turkey acted as mediator alongside the United Nations last year to establish a deal allowing grain exports from Ukrainian ports but the chances of serious peace talks look remote, especially as fighting continues to rage.
Ukraine's General Zaluzhny, summarising a Tuesday call with US Chairman of the Joint Chiefs of Staff General Mark Milley, thanked the American for helping ensure the provision of anti-missile weapons systems that Kyiv says is knocking out more and more of the Russian missiles aimed at power-generating plants.
Zaluzhny said he had discussed what equipment Ukraine needed to increase its chances against Russia, a message that senior officials have hammered on a daily basis.
British Prime Minister Rishi Sunak told Zelenskiy that he can count on Britain for support over the long run "as demonstrated by the recent delivery of more than 1,000 anti-air missiles", Sunak's office said on Tuesday.
Putin launched his invasion of Ukraine, what he calls a "special military operation", on February 24, 2022 to deter threats to Russian security and to protect Russian speakers. Ukraine and its allies accuse Moscow of an unprovoked imperialist-style grab for territory.
The General Staff of Ukraine's Armed Forces on Wednesday said Russia had launched seven missile strikes, 18 air strikes and more than 85 attacks from multiple-launch rocket systems in the past 24 hours on civilian infrastructure in three cities, Kramatorsk, Zaporizhzhia and Kherson.
"There are casualties among the civilian population," it said. Russia denies targeting civilians.
The battlefield report could not be independently verified by Reuters.
Back to News