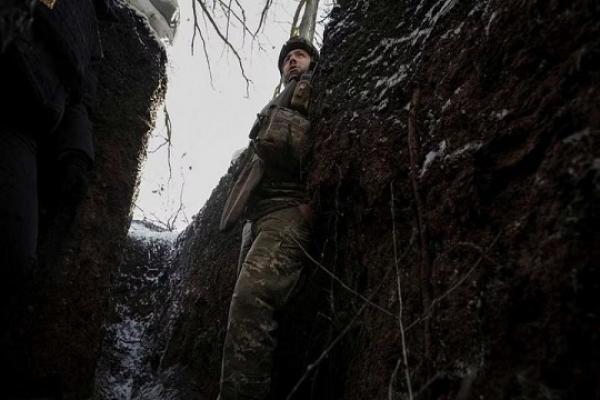 No sign of casualties at site of strikes Russia says killed hundreds of Ukrainian soldiers
From: Agency Report
Tue, 10 Jan 2023 || Nigeria,
A Russian rocket strike on the Ukrainian city of Kramatorsk caused damage but did not destroy buildings and there were no obvious signs of casualties, a Reuters witness said on Sunday, after Russia said the attack killed 600 Ukrainian soldiers, Reuters reports.
Reuters reporters visited the two college dormitories Russia's defence ministry said had been temporarily housing Ukrainian servicemen close to the front line of the war at the time of the overnight strike. Neither appeared to have been directly hit by missiles or seriously damaged. There were no obvious signs that soldiers had been living there and no sign of bodies or traces of blood.
Some of the windows were broken at Hostel No. 47, which stood by a courtyard that had a big crater in it.
The other building named by Russia's defence ministry, Hostel No. 28, was entirely intact. A crater lay about 50 metres away closer to some garages.
Authorities in Kyiv did not immediately comment on the strike or on Russia's claim of hundreds of casualties. Kramatorsk's mayor earlier said there had been no casualties.
Russia's defence ministry, in a statement, said the strike on the buildings in Kramatorsk was a revenge operation for a deadly Ukrainian attack last week on a Russian barracks in Makiivka, in part of the Donetsk region controlled by Moscow's forces, in which at least 89 servicemen were killed.
It said Moscow had used what it called reliable intelligence to target the Ukrainian troops. More than 700 Ukrainian troops had been housed in one hostel and more than 600 in another, it said.
"As a result of a massive missile strike on these temporary deployment points of Ukrainian army units, more than 600 Ukrainian servicemen were destroyed," the defence ministry said.
If true, it would be the single largest loss of Ukrainian troops since Russia invaded on Feb 24 last year. Neither side in the grinding war, now in its eleventh month, usually disclose losses.
Pavlo Kyrylenko, Ukraine's governor of Donetsk, had said earlier that Russia had launched seven missile strikes on Kramatorsk.
And Oleksandr Honcharenko, Kramatorsk's mayor, said earlier on Sunday that the attack had damaged two educational facilities and eight apartment buildings and garages but that there had been no casualties.
Ukraine was believed to have stopped housing troops close together in single facilities after a deadly Russian missile strike on a base in western Ukraine in March which killed dozens.
The practice of housing soldiers all together came into focus too after the Ukrainian strike on Makiivka this month with Russian military commanders subject to fierce criticism inside Russia for not dispersing their forces.
Russia has repeatedly shelled Kramatorsk, which is also in the Donetsk region, one of four regions Moscow claims to have formally incorporated into Russia, something Ukraine and most countries in the world do not recognise.
Kramatorsk lies a few miles northwest of Bakhmut, a small city which Russia has been trying to take for more than five months in a brutal battle which has become the scene of some of the fiercest fighting in recent weeks.
Ukrainian officials earlier said at least two people had been killed elsewhere in Russian overnight bombing after a unilateral Russian Orthodox Christmas ceasefire had expired.
A 50-year-old man had been killed in the northeastern region of Kharkiv, Oleh Synehubov, the governor of the region, said on the Telegram messaging app.
Another person had been killed in overnight attack on Soledar, close to Bakhmut in the Donetsk region, local officials said.
Back to News