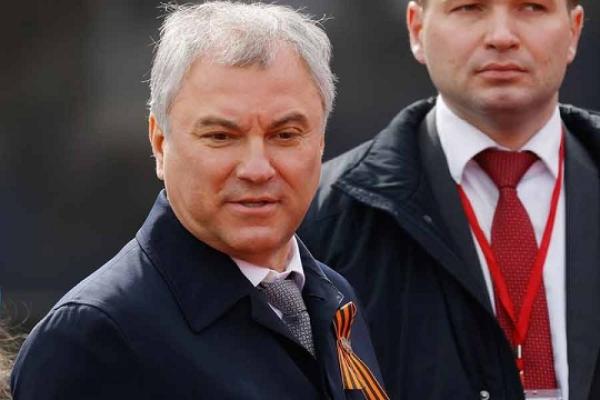 Putin's ally suggests seizing property of Russian war critics
From: Agency Report
Fri, 13 Jan 2023 || Nigeria,
A close ally of President Vladimir Putin suggested on Friday confiscating the property of Russians who have left the country and who "insult" the state and its armed forces from abroad.
The proposal from Vyacheslav Volodin, speaker of the lower house of parliament, was clearly aimed at opposition figures - many already designated as "foreign agents" - who have condemned the Ukraine war after fleeing the country to avoid arrest.
"Recently, some of our fellow citizens consider it possible to insult Russia, its inhabitants, soldiers and officers, and openly support villains, Nazis and murderers," Volodin said, the latter terms referring to the forces that Moscow claims to be fighting in Ukraine, according to Reuters.
"Their goal is clear - to curry favour and try to maintain their well-being abroad," he wrote on his Telegram channel.
Volodin said the existing legal responses to combat extremism, "rehabilitation of Nazism" or discrediting the armed forces - which is already punishable in Russia with fines and jail terms - were not sufficient to deal with these foreign-based "reprobates".
"While abroad, they rent out real estate and continue to receive payments at the expense of Russian citizens. At the same time, they allow themselves to publicly pour dirt on Russia, insult our soldiers and officers. They feel they have impunity, believing that justice cannot reach them," he said.
It is therefore necessary to update the criminal code with a clause on confiscating the property of such people to compensate for the damage they have done, he said. It was not clear whether such a measure might go before parliament, or how soon.
Volodin, 58, has been speaker of the lower house, the State Duma, since 2016, having previously held a senior role in the presidential administration.
As a member of Putin's Security Council, he has regular access to the president. As Duma speaker, he has ensured that key Kremlin policies move efficiently through the legislature, including laws penalising criticism of the war, placing the economy on a war footing and annexing occupied regions of Ukraine.
Back to News