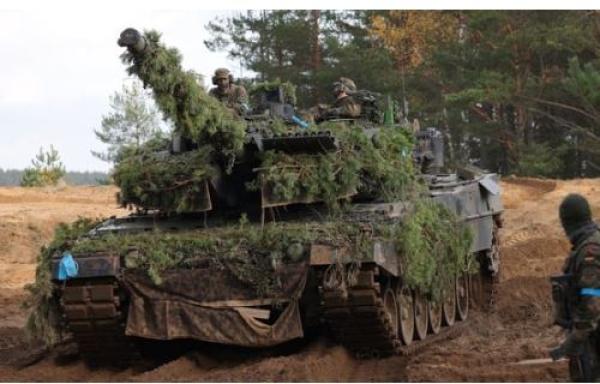 EU Approves €500m Military aid for Ukraine, Germany faces pressure on ranks
By: Cletus Sunday Ilobanafor
Tue, 24 Jan 2023 || Nigeria,
The European Union has ratified more military aid to Ukraine worth €500 million, sources said, as Berlin faced more pressure over calls from Kyiv to supply it with German-made Leopard tanks.
Agreement on the seventh such tranche of aid came as the EU's 27 foreign ministers met in Brussels after Western countries failed last week to agree on sending Ukraine battletanks – but pledged billions worth of support.
The €500 million package was approved along with a further €45 million for "non-lethal equipment" for the EU's military training mission for Ukraine, said an EU diplomat.
Two other sources following the ministers' closed-doors talks confirmed that.
Germany's Leopard tanks, fielded by armies across Europe, are widely seen as the best fit for Ukraine, but Berlin must authorise their sale and has yet to do so.
Poland said today it could send those tanks as part of a coalition of countries.
Arriving at the Brussels meeting, German Foreign Minister Annalena Baerbock declined to elaborate on comments yesterday when she said that Berlin would not stand in Poland's way.
She said it was important to "do everything we can to defend Ukraine".
Chancellor Olaf Scholz's centre-left Social Democrat party argues the West should avoid sudden moves that might escalate the war.
But several allies reject that position, saying Russia is already fully committed to its 11-month-old assault on Ukraine.
"At this point there are no good arguments why battle tanks cannot be provided," Latvian Foreign Minister Edgars Rinkevics said.
"The argument of escalation does not work, because Russia continues escalating."
Lithuanian Foreign Minister Gabrielius Landsbergis said the tanks should not be held up one more day, while Estonian Foreign Minister Urmas Reinsalu said Germany, as an "engine of Europe", had particular responsibility to help Ukraine.
Luxembourg's Foreign Minister Jean Asselborn said Russia could win the war if Europeans "don't help Ukraine with what they need now".
The ministers were expected to discuss – but not reach adecision on – using Russian assets frozen in Europe to help rebuild Ukraine, as well as a 10th package of sanctions against Russia to take effect next month.
Hungary, a vocal Russia dove in the EU, approved the €500m tranche but signalled its opposition to more sanctions, especially if they were to restrict Budapest's cooperation with Moscow in nuclear energy.
"All decisions that could prolong the war or lead to a potential escalation are against our interests," said Hungary's Foreign Minister Peter Szijjarto.
"It's been proven that sanctions are leading Europe into a dead-end street."
Poland's prime minister has said his government would ask Germany for permission to send Leopard tanks to Ukraine, and planned to send them whether or not Berlin agreed.
Around 11 months after Russia invaded its southern neighbour, the fighting is centred on the town of Bakhmut in Ukraine's east, where Russia's Wagner mercenaries and Ukrainian forces have been locked in a battle of attrition.
Russia's defence ministry said for the second straight day that its forces were improving their positions in Ukraine's southern region of Zaporizhzhia, though a Ukrainian military spokesperson told the state broadcaster the situation there was "difficult" but stable.
The Reuters news agency was not able to independently verify battlefield accounts.
Ukrainian officials have been calling on Western allies to supply them with the modern German-made tanks for months, but Germany has held back from sending them or allowing other NATO countries to do so.
Leopard tanks, which are held by an array of NATO countries but whose transfer to Ukraine requires Berlin's approval, are seen by defence experts as the most suitable for Ukraine.
Western allies pledged billions of dollars in weapons for Ukraine last week but they failed to persuade Germany to lift its veto on providing the tanks.
Germany has been under heavy pressure to let Leopards go to Ukraine but the Social Democrat party of Chancellor Olaf Scholz is traditionally sceptical of military involvements and wary of sudden moves that could trigger Russia to escalation.
Ms Baerbock's remarks appeared to go further than Mr Scholz's comments at a summit in Paris early yesterday, that all decisions on weapons deliveries would be made in co-ordination with allies, including the United States.
Ukraine says the heavily armoured battle tanks would give its ground troops more mobility and protection ahead of a new Russian offensive expected in coming months.
But Germany has appeared to have tied any such contribution to a US move to send its Abrams tanks, something American officials have said they are reluctant to do because the vehicles are complicated to maintain.
Ukrainian President Volodymyr Zelensky meanwhile was grappling with a corruption scandal which could dampen Western enthusiasm for his government.
A newspaper reported that the military had allegedly secured food at highly inflated prices, and a deputy minister resigned after an investigation into allegations he accepted a bribe.
Germany a 'very strong supporter of Ukraine' – Tánaiste
Tánaiste Micheál Martin said Germany has been a very strong supporter of Ukraine and that would continue.
Asked about whether Germany should be sending Leopard 2 battle tanks to Ukraine, Mr Martin said: "Germany has been a very strong supporter of Ukraine, and continues to be one of the most significant supporters of Ukraine along with the United States, and the United Kingdom and France and others.
"That has to be acknowledged. It's a matter fundamentally for the German government. But I do believe the German government is working with other governments and these issues will be resolved in due course. There's a lot of engagement going on."
Asked if Ireland should rethink its position of not sending lethal aid to Ukraine, Mr Martin said Ireland did not have the capacity to send heavier weaponry to Ukraine.
"There are two issues here: military neutrality is an issue and it's not something that can be just put to one side. But also we don't have capacity militarily, let's be honest about that.
"So we have focused on where we can be of the greatest assistance, both in terms of the political side where we were one of the leaders in terms of supporting Ukraine's application to join the European Union, and secondly, in terms of accountability, and bringing accountability for Russian aggression," he told reporters on arrival at a meeting of EU foreign ministers in Brussels.
He said Ireland was working with other countries in proposing an interim court at The Hague to hold Russia to account for its war of aggression against Ukraine.
The Government has also shown its support by taking in tens of thousands of Ukrainian refugees, he added.
'Terrible war'
American politicians have pushed their government to export M1 Abrams main battle tanks to Ukraine, saying that even sending a symbolic number would be enough to push European allies to do the same.

Britain recently said it was supplying 14 Challenger 2 tanks to Ukraine. Its foreign minister, James Cleverly, said yesterday that it still wanted an international deal to provide Ukraine with the German-made tanks.
French President Emmanuel Macron, meanwhile, said he did not rule out the possibility of sending Ukraine Leclerc tanks.
Last week, the Kremlin's spokesman said Western countries supplying additional tanks to Ukraine would not change the course of the conflict, but would add to the problems of the Ukrainian people.
A close ally of President Vladimir Putin said that deliveries of offensive weapons to Kyiv that threaten Russia's territories would lead to a global catastrophe and make arguments against using weapons of mass destruction untenable.
Vyacheslav Volodin, speaker of Russia's lower house of parliament, warned that the United States and NATO's support of Ukraine was leading the world to a "terrible war".
Since its invasion on 24 February, which it has cast as defending itself from an aggressive West, Russia has taken control of parts of Ukraine and has said it will never return them. Ukraine has said that restoring its territorial integrity is not open for negotiation.
Back to News