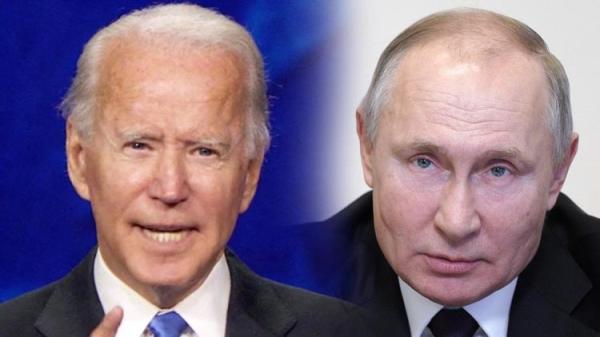 Russia will never win in Ukraine, Biden vows
From: Agency Report
Wed, 22 Feb 2023 || Nigeria,
United States President Joe Biden was due to meet eastern European leaders on Wednesday, a day after vowing Russia would never see victory in Ukraine.
Vladimir Putin has said Russia will press on with its nearly year-long war. On Tuesday, he accused the West of escalating the conflict and announced Moscow would suspend participation in the New START nuclear arms treaty with Washington.
The Russian president said increasingly stringent sanctions on the country "will not succeed" and vowed his country would keep fighting to "systematically" achieve its aims.
Speaking hours later in the capital of NATO ally Poland, Biden pledged that "Ukraine will never be a victory for Russia — never".
The 80-year-old leader had a day earlier made a surprise visit to Kyiv, his first since the invasion began and just days before the war's one-year anniversary.
Surrounded by a flag-waving crowd outside Warsaw's Royal Castle, Biden responded directly to Putin's accusations, saying the West "is not plotting to attack Russia".
He said Putin "thought autocrats like himself were tough" but faced the "iron will" of the United States and its partners.
"There should be no doubt: our support for Ukraine will not waver, NATO will not be divided and we will not tire."
Biden earlier met Polish President Andrzej Duda, saying his visit had come "at a critical moment".
He also reaffirmed Washington's "iron-clad" commitment to NATO's principle of collective defence.
Duda said that thanks to Biden "we can see that America can keep the world order".
– 'Irresponsible' –
Putin's decision to suspend participation in New START was met with widespread international condemnation, though Russia's foreign ministry later said Moscow would continue to comply with the treaty's restrictions in a "responsible approach".
The 2010 deal is the last remaining arms control treaty between the world's two main nuclear powers.
US Secretary of State Antony Blinken said Russia's decision was "deeply unfortunate and irresponsible" but that Washington was still willing to talk about the issue.
NATO Secretary General Jens Stoltenberg said the move meant that "the whole arms control architecture has been dismantled".
Ukrainian President Volodymyr Zelensky thanked Biden for his speech in a tweet, as well as "all of America for their leadership in rallying the world in support of freedom and for their vital assistance to Ukraine."
"We all stand united and brave — Ukraine, USA and our entire coalition of victory."
Zelensky met Tuesday in Kyiv with another coalition partner, Italian Prime Minister Giorgia Meloni.
While facing some pro-Russian sentiment in her right-wing ruling coalition, Meloni pledged that Rome "does not intend to waver" in its support for Ukraine.
China 'deeply concerned' over Ukraine conflict, vows to 'promote dialogue'
However, sending fighter jets, which Zelensky has argued are vital for ending the war, is "not on the table" for now, she said.
– 'Critical moment' –
Biden is due to meet Wednesday with the leaders of nine eastern NATO members who — though staunch supporters of Ukraine — fear the war spilling over.
When the Kremlin launched its Ukraine offensive, the so-called "special military operation" was planned to be a rapid conquest leading to capitulation and the installation of a pro-Russian regime.
Since then, Russia has been forced to give up ground but has kept up a barrage of drone and missile attacks, whie the military and civilian toll has spiralled.
Various Western sources estimate the conflict has caused 150,000 casualties on each side.
Zelensky blasted Russia for "mercilessly killing" civilians Tuesday in the southern city of Kherson as local officials reported at least five deaths following strikes there.
AFP reporters saw dead bodies covered with plastic sheets or foil blankets on the streets near a bus stop and a supermarket.
Kherson is the capital of one of the four regions — along with Donetsk, Lugansk and Zaporizhzhia — that Russia claims to have annexed but has never fully controlled.
In Donetsk, Moscow's relentless struggle to capture the city of Bakhmut has exposed tensions between the Russian military and the Wagner mercenary group.
The private fighting force's head, Yevgeny Prigozhin, on Tuesday accused military chiefs of refusing to sufficiently supply his group, saying this amounted to "treason".
Russia's defence ministry responded by detailing ammunition deliveries and denouncing "absolutely false" reports of shortages.
– 'Getting out of control' –
China meanwhile said it was "deeply concerned" about the conflict, which it said was "intensifying and even getting out of control".
Beijing has sought to position itself as a neutral party, while maintaining close ties with strategic ally Russia.
China's top diplomat, Wang Yi, was in Moscow for talks, and due to meet Russian Foreign Minister Sergei Lavrov Wednesday.
The Kremlin has said Wang may also meet Putin during his visit, according to the official TASS news agency.
Stoltenberg on Tuesday echoed US concerns that China could supply Russia with weapons to help it pursue its campaign in Ukraine.
The Western allies worry they are falling behind in supplying enough shells for Kyiv's artillery to fend off a renewed Russian offensive.
Back to News