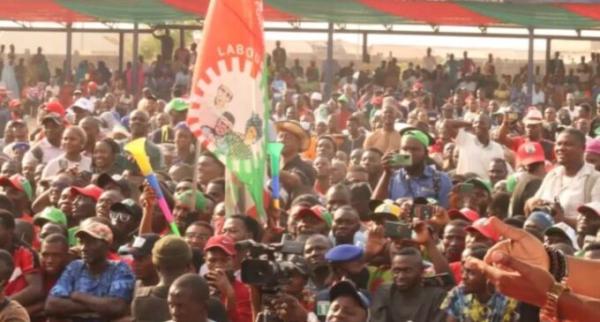 'It is our party' — TUC appeals to members to vote LP
By: Abara Blessing Oluchi
Thu, 23 Feb 2023 || Nigeria,
The Trade Union Congress of Nigeria (TUC) has appealed to its members to vote for Labour Party (LP) candidates in the general election.
The development comes hours before the presidential election.
According to NAN, the appeal was contained in a statement on Thursday by Festus Osifo, TUC president, and Nuhu Toro, the secretary-general.
"Workers have the duty not only to cast their votes for candidates of their choice who are pro-labour and they can trust, but also to defend the sanctity of the electoral process," the TUC said.
"Congress hereby directs all our members in all the thirty-six states and the seven hundred and seventy-four local governments to be reminded that Labour Party belongs to us, hence our appeal to all our members to vote for the Labour Party and all their candidates.
"Workers must keep in mind that where the political elites, some of who hold multiple nationalities, are rich enough to relocate abroad, the working people and the mass of the citizenry have no alternative but to stay in the country.
"Hence, the working class has a greater stake in ensuring not just the peaceful conduct of the elections, but also to safeguard general peace in the country including in the post-election period."
The TUC also called on the Independent National Electoral Commission (INEC) to ensure that the elections are transparent.
The congress asked politicians to comply with the rules, and also urged the security agencies and National Youth Service Corps (NYSC) members to be professional in carrying out their duties.
"These youth corps members are not only crucial for successful elections but also, are part of the bulwark of our youths that can guarantee a future Nigeria," the TUC added.
"Governments at all levels have a primary duty to secure lives and property, so, they must protect all citizens before, during and after the elections."
Back to News