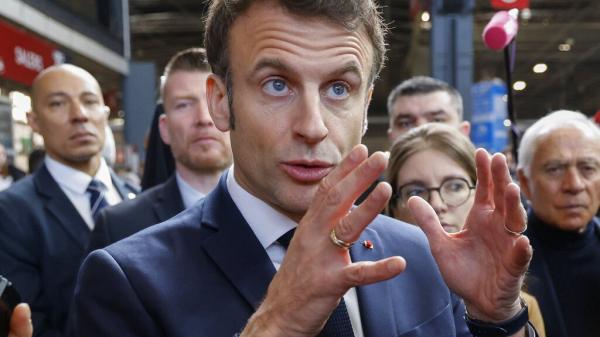 France to unveil new economic, military strategy in Africa
From: Agency Report
Mon, 27 Feb 2023 || Nigeria,
French President Emmanuel Macron will unveil on Monday his country's changing economic and military strategy in Africa in the coming years, as France's influence substantially declines on the continent.
Macron is expected to call for a more balanced partnership with African nations, in a speech at the Elysee presidential palace before he begins an ambitious Africa trip on Wednesday to Gabon, Angola, the Republic of Congo and Congo.
Monday's speech comes at a time when France's influence on the continent is facing more challenges than it has in decades.
In less than a year, French troops had to withdraw from Mali, which turned instead to Russian military contractors, and most recently from Burkina Faso, which also appears to increasingly look towards Moscow.
A growing anti-France sentiment has led to street protests in several West and North African countries against the former colonial power.
In addition, the historical economic ties that France had with the region are being challenged by the growing commercial presence of Russia, China and Turkey.
"It's not a trip that aims at getting into the race to regain a regretted influence," a top official at the French presidency said. The trip isn't aimed to "try to get back to the past. It's more to respond to a demand for partnership, for relations, but with new methods and a new approach," he said.
The official was speaking on condition of anonymity in line with the French presidency's customary practices.
Macron is notably expected to detail changes that France will bring in its military deployment in the Sahel region.
Last year, he announced the formal end of the so-called Barkhane military force after France withdrew its troops from Mali. French operations to help fight Islamic extremists in the Sahel region are now focusing mostly on Niger and Chad, where the country still has about 3,000 troops.
Macron in recent years insisted any French presence in Africa should be based on "partnership" in efforts to move away from post-colonial interference.
"Faced with the strategic threats ahead, whether it's war in Ukraine, economic shock, pandemic shock, it's crucial that Europe and Africa are as aligned as possible and get, let's say, as intimate as possible in their dialogue," the French official said.
Macron, 45, is the first French president born after the colonial era. He has previously sought to extend France's cooperation with English-speaking countries, like Ghana and Kenya, and increase French investments in Africa's private sector.
During this week's tour, he will notably visit Portuguese-speaking Angola, with the aim to develop links especially in the fields of agriculture and food industry as well as energy, including oil and gas.
Yet Macron's tour this week in central Africa already faces questions.
Some opposition activists in Gabon have denounced his visit, which they perceive as bringing support to President Ali Bongo Ondimba, whose family has ruled since the 1960s, before the presidential election scheduled later this year.
Similar questions have been raised in Congo before a December presidential election.
"Before, during and after this trip, the president of the republic, like all French authorities, will show strict neutrality regarding these elections," the French top official said.
The Elysee stressed that Macron is coming to Gabon mostly to attend a major climate-related summit focusing on the preservation of forests.
He will also seek to show France's attachment to improving economic and cultural relations with two French-speaking countries, the neighbouring Republic of Congo and Congo, not only via talks with authorities but also by establishing links with local populations, entrepreneurs, artists and activists, according to the Elysee.
Back to News