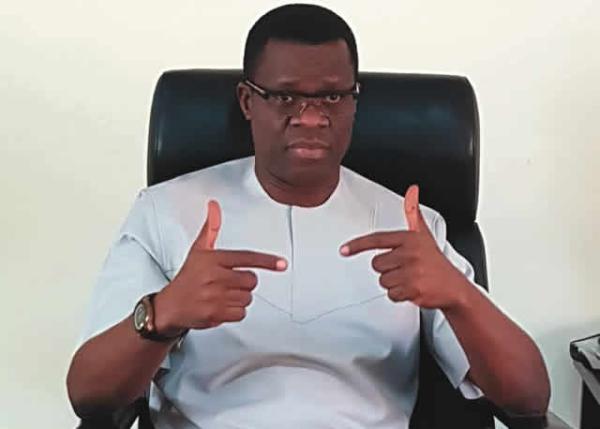 I'm still in shock on 2023 Election over level of deviation from established laws, guidelines, procedures-Igini
From: Agency Report
Sat, 1 Apr 2023 || Nigeria,
Mike Igini, a lawyer and two-term Resident Electoral Commissioner, REC, has served in Cross River, Akwa Ibom and Bayelsa States. First appointed in June 2010, by President Goodluck Jonathan, he was reappointed in 2017 by President Muhammadu Buhari.
For a man described by many as a fearless operator in the electoral space, he was the face of the Independent National Electoral Commission, INEC, in the lead-up to the 2023 general elections, promising Nigerians that all would be well.
Now that the elections have gone the way they went, with the controversial issue of no upload of results in real-time from Polling Units, Igini reflects on what went wrong and how things can be corrected. Excerpts:
Many Nigerians are eager for your assessment of the 2023 general elections given the passion with which you urged Nigerians to participate in the election and that it would be the best, free and fair.
I can understand the feelings of extreme disappointment, pain and frustrations of fellow countrymen and women particularly youths, over what was promised and the painful experience they went through during the elections and their unmet expectations.
We are in these agonizing moments of pain together. l have been down emotionally and still in shock over the level of deviation from established laws, issued guidelines and procedures that we all signed into and that I leveraged, honestly and faithfully to call on Nigerians to participate fully to determine their leaders. I will never be part of any plot or design to deceive Nigerians, may such a day never come in my lifetime. My passion for free, fair and credible elections in Nigeria did not begin in 2023. Those who have diligently followed my advocacy for election integrity will remember my zealous exertions and subsequent detention in Enugu before and after the annulment of the June 12 elections in 1993, many also will recall my participation in CODER for electoral reforms after the fiasco that was described as the 2007 general election.
Those who are keen on elections will also recall how I took the same passion to my supervisory roles in the regulation of the electoral process as a Resident Electoral Commissioner in Cross River, intervention missions in Anambra, Imo state Guber elections in both 2011 and 2015, Edo, and later Akwa-Ibom states. Frankly, l don't think I did anything wrong by the weekly voters' and civic education that I gave to Nigerians without being paid a dime at a time that l had offers for a consultancy that I politely declined because l wanted to be objective in seeing to the implementation of the process that I was part of putting in place before my tenure ended last year.
Nigerians acknowledged your unblemished integrity and appreciate your commitment but wonder why you trusted INEC so much and sold it to them because they trusted your judgment
That is part of the cross I'm carrying today that has weighed me down. As a matter of fact, I am still in shock over what we all saw. We saw video clips of thugs stationed at polling units that prevented citizens from voting, the commission's poll officials announcing to voters that they would not upload election result from polling units and that whoever would not want to vote on that condition, could go away. They took a cue from what happened in the first round of elections wherein out of the three different elections conducted the same day, only presidential results could not be uploaded from the polling units. This was what overshadowed every other success of the BVAS, given that the presidential election is the most coveted office that Nigerians and the whole world were interested in its outcome and the reason many Nigerians abroad bought expensive flight tickets to travel back home to vote, yet many of them couldn't vote on that day. I would have said no sacrifice is too much to make for your country but is it the kind of sacrifice that we want from citizens in form of disappointment, pain and frustration?
But the question remains, what was the basis for your confidence of the system you promoted to Nigerians?
If we had a new law and innovations that have been used successfully in several elections, why will I not have confidence in the system? It's not just a matter of my confidence in the process but a long-standing collective desire of Nigerians for credible periodic elections for the sustenance of democracy. We all collectively pushed vigorously for the passage of the 2022 electoral bill that was signed by the president on 25th February last year, the 2022 Act gave all of us a renewed hope of a credible election in 2023. It secured the use of the BVAS and other innovations that have been piloted before its passage, the system had been used to conduct one hundred and five elections (105) including five Governorship elections of Edo, Anambra, Ondo, Ekiti and Osun successfully by uploading directly declared results from polling units straight to the Server and public results viewing portal called IREV to avoid alteration/manipulation at Ward, LGA and other levels of collation centre.
This is the mischief that the entire innovation was designed to cure and the reason I promoted it but the human beings that should implement the system failed Nigerians at the hour of its implementation and not the BVAS technology that failed.
That important distinction or clarification must be made and noted even when people are unhappy and disappointed. We all saw the video clip of an INEC poll official, a young lady who unlawfully told voters that results will not be uploaded from the polling units and whoever was not satisfied with that illegal instruction should go away, whereas sections 60,64 of the Act, as well as clause 38 of the Regulations & Guidelines, are clear on the matter. So, I call for an understanding of my position before the election that my commitment and passion for election integrity far precedes the 2022 Electoral Act and the 2023 General Election.
What was however different in 2023 was that I saw from what I know of our electoral history and the reforms which informed the drafting and enactment of the 2022 Electoral Act that much effort was put into that Law to create a significant milestone in our electoral process but the human agency involved in the electoral process in Nigeria effectively played their roles to the disappointment of all. So far, the law and innovations have now made the audit trail relatively easy and have proved to be significantly effective in making it difficult to destroy digital evidence whenever there are deviations from the procedure, making such deviations obvious and indelible as evidence trails.
These are matters that the various tribunal set up will examine to put a closure to the outcome of the 2023 General elections.
Nigerians witnessed instances where voters were suppressed, collations disrupted and sometimes blatantly truncated, whereas, despite these deviations, results were announced with many disputed. How can these reflect a significantly effective system?
These deviations you described are the issues that aggrieved parties have taken to the tribunal that will influence their decision one way or the other and I will not want to dwell on them. But suffice to say that when people are not allowed to even vote at all, that is not a BVAS problem but that of the political actors and of security officials that could not or refused to protect citizens. We saw the young girl whose video went viral, she was harassed by thugs and prevented from voting and she was cursing different individuals as she walked out of the polling unit weeping and tears rolling down her eyes that she was not allowed to vote because she didn't disclose the party and candidate she wanted to vote for that day. It was a sad day for all who went through similar terrible experiences orchestrated by extra-constitutional actors that curtailed citizen's freedom of choice on Election Day. It is to make all stakeholders in the electoral process accountable with evidence trail that the BVAS and the IREV were introduced to automate part of the process so that we do not rely wholly on the subjectivity of humans who are vulnerable to all sorts of inducements from politicians. Unfortunately, the problem we are facing now is large of human frailties and not technology. After all, it is BVAS that has ended those bogus "Moon-slide" and "Landslide" votes of the past, that made it possible for an Okada rider and a fish farmer to win National Assembly elections, and made it uncertain for the Senate to become a reserved post gubernatorial club, so that it is no longer an automatic retirement chamber for outgoing governors unlike in the past. But we cannot be seen to celebrate all these positive outcomes given some of the terrible and very brutal experiences of Nigerians some of whom were killed during the election.
The law expected the election managers, security agents and eventually the judicial officers to be consequence managers for deviants who refuse to comply with the expectations of the law. What were the expectations for these consequence managers if they become part of the problem, like refusing to conduct elections in designated polling units, failing to upload election results as captured in the designated result forms on the INEC IREV portal as the law demanded, and failing to collate results at wards?
The law prescribes consequences for all of these, but as I pointed out it requires the human agency to comply with good laws. As I noted repeatedly during my weekly public enlightenment before the election, good laws and innovations are not self-executory, they have to be implemented by human beings and that is why it's often said that the devil is in the implementation.
The Law does not envisage a collapse of consequences or a full bloom of impunity, that is why Saint Augustine declared several decades ago that a Nation is nothing but a band of rogues without the Law, when laws are meaningless why should we bother to embark on nation building? It will be a futile effort.
This is why we have to rely on the final layer of consequence Managers step up to the plate assuming that credible evidence of deviations is established, it will be an invitation to anarchy not to ensure that there are consequences for clear breaches of the Electoral Law. The rule of law is a graceful ornament to a well-governed society and indeed the Corinthian capital of polished society. No country or nation can make progress beyond the value orientation of those who lead.
The highest principles of ethical standards must be observed for sanity to reign in any society. Society makes progress based on rewards and severe sanctions for wrongdoing by those who seek to lead. Those who crave the honour of public office with all its appurtenances must not break the law of the land. This is where the judiciary has to stand up and mighty in defence of democracy and the rule of law.
Many Nigerians including lawyers and retired justices of the Supreme Court have all expressed a lack of confidence in the judiciary to do justice. Is the Nigerian state not a hopeless one at the moment?
Well, the situation in my constituency is worrisome and disturbing particularly when both serving and retired judicial officers and even members of the public express a lack of confidence in the judicial system. That is the most dangerous level of discredit that, members of the bar and particularly the bench must not allow the system to degenerate to, otherwise we are in big trouble. As a lawyer, I feel diminished and ashamed that politicians, the majority of whom are not lawyers, semi-educated money-bag politicians could be allowed to bring our noble profession to this level of opprobrium, resentment and distrust from members of the public who no longer respect us because of the unethical conduct of some members of the bar, particularly the bench. I repeat some members because we have shining members of both the bar and the bench who are exemplary and worthy of emulation. But the very bad ones have ruined our collective reputation. These politicians brag and boast about what they do with members of my constituency to get whatever they want and that is why they are quick at telling opponents to go to court after compromising collation and returning officers. Is it not surprising that politicians who go all out to undermine electoral laws and rig elections are the ones that will tell people to go to court? As noted very correctly by the learned Silk Agbakoba, the recent decision of the Supreme Court like others in favour of individuals that didn't participate in party primaries has further affected public confidence and this is very unfortunate because of the timing of the decision so close to the 2023 election.
What is your recommendation or advice to your constituency which you always referred to as the Judiciary?
The judiciary must stand tall and mighty in defence of democracy and the rule of law. We have to go about solving this problem the way the United Kingdom itself introduced Nigeria to election rigging and ended electoral rigging and fraud such that for a period of almost one hundred (100) years precisely 99 years, there was no post-election petition adjudication in England till 2010 concerning Liberal Democrats. Historically, the UK was one of the notorious countries noted for vote buying and election rigging because of the concern that such practice of use of money could be used by politicians also to capture the judiciary in England by buying judges if the courts were to adjudicate on electoral disputes, allegations of electoral malpractices by way of election petitions were initially determined by parliament and not the courts to insulate the judiciary from potential corruption.
However, parliament with majority party members expectedly could not deliver electoral justice to opposition petitioners for years. Consequently, it was decided that the courts in England should assume jurisdiction over post-election petitions and that was how the court became involved. But mindful of the fact that the ills of corruption that prevented justice from being served to petitioners in parliament could be transferred to the courts, parliament had to pass the 1872 secret ballot Act, Electoral corruption and illegal practice Act of 1872 as well as the 1883 ballot Act with a range of consequences such as expulsion from parliament, a ban for seven years from politics or for life from politics.
These were the laws that judges and the courts used strictly in England to do substantive justice to election petitions to discourage potential election rigger politicians in the UK and never hid under the technicality that encourages election riggers in Nigeria who are quick to tell people to go to court. Because the courts in England were never a haven for election riggers, given that they, politicians linked to election rigging could be banned for life from participation in politics, and with various legislation to strengthen the electoral process free of manipulation and corruption in the UK then as we tried to achieve with the 2022 Act and the BVAS/IREV technology, politicians had to abide by the process because of fear of severe consequences from the courts. That is why for almost 100 years, there was no post-election petition adjudication in England. The fear of judges by politicians and their judgments on matters of electoral fraud, manipulation and deviation from established electoral laws in England brought sanity to the electoral process in England and ended election rigging. Politicians in England and America are afraid of the courts and judges but here in Nigerians, politicians brag about judges as their friends and will get whatever they want from the judiciary. Why can't we emulate what judges and judiciary did to give meaning and purpose to the ballot as the best means of the expression of the will of the people in a democracy? The judiciary is now the last hope of putting an end to the culture of impunity and election rigging in Nigeria
For the average citizens who were prevented from exercising their civic responsibilities or whose votes were upturned by influential deviants, what remedy can they rely on?
It is premature to paint a picture of futility when the post-election dispute resolution process is ongoing. We should allow the judiciary to perform its statutory duty in the determination of these matters and let us be restrained. There must be consequences for wrong conduct and violation of the laws of the land. Impunity sustains deviation from Electoral Integrity, thus, if we do not address the gaps in the management of consequences for deviation from electoral integrity, we risk an increase in all the predictable consequences of such impunity including protest politics, which we now have on the streets, decline in governance legitimacy, violence, civil unrests and consequently a lack of development. All these are avoidable.
Will ensure consequences for deviants from the electoral Law alone address the scale of the problems associated with those who defy the electoral laws with impunity?
It will help, but it will not address the root causes, because elections are a means to the end of good governance and development, not an end in itself. To assume that just managing the consequences of deviation from election integrity alone will solve the problem is to avoid the real issues.
The real issues also lie with our governance structures and what follows the election of representatives. We have to go back to the very motivation for electing people to represent us in running our affairs because we cannot all leave what we do daily to sit around a decision-making table to run these affairs collectively daily, which was what citizens did before families became clans and clans became villages and villages became cities and cities became a metropolis. We need to go back to how the traditions and regimes for our governance are organized in such a manner that we all have self-interested value to obtain in ensuring that those who are selected to represent us cannot game the selection process or are demotivated to do so.
Apart from Managing electoral deviations by the Court's sentencing or banning election riggers and their sponsors, the more important task is the restructuring of our governance structures in such a way that we have more collective and collaborative zeal to vote objectively or "select" representatives in a manner that is not necessarily adversarial and competitive but rather collaborative and productive.
This is why we must return to the core subject of how we federate, why we federate and how best to organize ourselves for collaboration rather than competition. If we do not address that core issues, our efforts to curb impunity during the selection of representatives will remain a contest where clever demagogues play the voters against their collective interest by gaming the selection system. So we must first address objectively why we select and how best to select representatives to meet that goal. In addressing this core question we will then define what the representatives are, are they agents, delegates, our proxies for our well-being and interests or are they rulers over our collective interests?
So you are implying that the electoral failures have root causes in the failure to address the restructuring of Nigeria to true federal governance?
Yes in the sense that elite political actions and power struggles are conflated amongst Nigerians because of the realities of the distorted Federal system, and the unethical way elites play on these weaknesses using the over-centralization of power, wherein the federating units rely on the federal centre for much of their development needs, it makes the competition for central power co-terminal with regional survival, hence there are regional competitions rather than collaboration for central power. These centrifugal forces are heightened for electoral purposes and can be deliberately calibrated where it can provide desired outcomes. Let me state it more clearly with bread and butter issues. Until the recent constitutional de-concentration and decentralization of the jurisdictions for generation, transmission and distribution of electricity for example, everyone knows that no matter how efficient state governments may be, they cannot effectively address electricity problems without the federal government, the same goes for Ports, rail, mining and even supply of fuels and these are the core drivers of economic activity, economic activity drives GDP which is the central metric of growth if we leave aside the social indicators.
These distortions are crowned by the fact that because all the powers have been centralized, most federating units do not need to make too many economic efforts because the Federal Government holds the reins to ride or die. So everyone that can figure out the imperatives knows that owing to these distortions of the federalist governance model, the real jackpot is at the centre where a winner takes all presidential model is at play.
So for the electoral laws to be effective you are implying that we have to address restructuring or federalization
The electoral laws are suitable and sufficient, we have to address why despite the electoral laws many election personnel, security personnel and election gatekeepers still acted with impunity to flout the law and are confident that they can walk away with no consequences. It is not because the law is weak or absent, the experiences of the 2023 General Elections have shown that we must also pay attention to the Latin credo by the famous Roman poet Juvenal that states; "Quis custodiet ipsos custodies" or "who will watch the watchmen".
Put in another form our political elite have to come to a consensus that a cycle of elections in the form of a bloodsport where all the weaknesses of the frail pillars that hold the nation together as one are shaken to their foundations is unsustainable. Under a nation with settled standards of election integrity, the electoral Law will be an excellent legal bastion for superintending elections, but Electoral integrity requires regimes and institutions that will not be sacrificed for expediencies, but our federal practices feed on expediencies.
Just look back at our democratic history from the First Republic until date, whereas political actors fueled non-compliance with electoral laws under the first republic, the levels of non-compliance have heightened with the over-centralization of power under the presidential systems that have failed to de-concentrate.
But why is that important, it is important because in every system there will always be political actors who will not want to comply with the laws if they figure that their chances of winning fairly are slim, however, the only safeguard against such political actors relies on a national and regional system that supports consensus in our acceptance of common standards for selecting representatives knowing that the common standards cater to everyone and will not preserve unjust asymmetries in the provision of welfare, political and social rights as well as the wellbeing to all citizens and all groups irrespective of the outcome of the process of selecting representatives. Conversely, when we do not have such common expectations, the process and outcome of elections are seen as a national competition of the interests of federating units rather than the collaboration of interests, such political ambience is a fertile ground for the menus of electoral manipulation to thrive.
So given the experience of the 2023 General Election, are you suggesting that the Electoral Act was not a sufficient safeguard for credible elections for that reason we need to first and foremost address the system in which the political actors compete for power?
In a sense looking at our observed electoral phenomenology yes, to the extent that most observers are agreed that whatever the electoral outcomes of the elections of the 25th of February and the 18th of March, the international standards of electoral integrity were significantly questioned, but we must still maintain a responsible and respectable restraint on this position concerning the fact that post-election dispute resolutions are ongoing and much still needs to be examined which may influence what emerges and what the conclusions of the conduct of the election entail.
So the concerns we express now and the remedial suggestions we proffer are in relation to the electoral process and its sustainability. And on that, I am in accord with the consociation school of thought which opines that in diverse and multicultural federations like Nigeria, even suitable electoral laws can be undermined by the social and political context if there is no consensus among political actors to settle for a more ordered society. When we are ready and willing to do that, then we can all commonly agree on how we define the knights and knaves of our electoral process and thereby set a common standard for watching the watchmen who will be expected to substantially comply with our electoral Laws.
We must take this holistic view because we have to admit that Elections have become a political and social hazard to our nation rather than a celebration of democracy and development. When you identify a hazard the process of managing hazards and risk requires that you objectively examine the immediate and root causes so that you can develop effective control measures. Noncompliance with electoral laws is an immediate cause of the political hazard, the root cause lies in the system and political context that sustains such political behaviour repeatedly around elections. If we do not address the root causes we will only gloss over the electoral weaknesses. The conspiracy of elites in all institutions responsible for the conduct of a successful election remains the greatest threat to our democracy.
Back to News