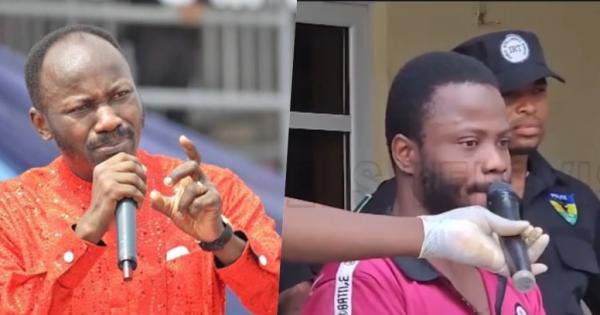 Police now taking credit for what I mobilised them to do- Apostle Suleman speaks
By: Abara Blessing Oluchi
Sat, 15 Jul 2023 || Nigeria,
Apostle Johnson Suleman believes those who attacked him and his family in October 2022 would have continued to walk freely if he had not mobilized police officers to go after them.
While speaking to his church members on the arrest of one of the criminals, Suleman revealed that he worked with three different police units to achieve results.
The cleric also stated that Yusuf Isah paraded by police on Thursday was arrested two months ago.
"October there was an attempt, you all saw the attempt, and when the attempt came I told myself I wasn't going to rest till we get them arrested. I started with a group of officers, they were not fast so I moved to the next group, they were not fast, and I moved to another set, you see now, police are taking the credit for something that someone mobilized them to do. If I wasn't serious they wont get those guys, they can take the credit, it is fine but I said I was going to pursue them and find them, they were deadly guys. They don't use phone calls, they use telegram, so to track them was a little bit difficult. The guy you saw in the video is a sniper. They caught him in Akure. You will be shocked that we caught him two months ago, you are just hearing it now. We were using him to get all the information we needed to get," Apostle Suleman stated.
The cleric added that the group who attacked him was also involved in kidnapping.
"There was a man in this town called Baba Petrol, those are the group that kidnapped him."
Apostle Suleman alleged that they "were the group that attacked the mother of the Kogi State governor as well."
He noted that "six of them are from Kogi State, one is a Fulani. That is not my interest, my interest is who sent you?"
Apostle Suleman said he was pained because some persons on social media accused him of using those who died during the attack for rituals.
"Some said I arranged it with my children inside.
"They spent 4 million to do charm before they attacked me. He (the suspect) said a lot but I don't know why they were squeezing the video. It's ok. all I want is justice.
"For five years people come for me, I kept quiet. But this time, you come for me, I will pursue you. I have told our team, everybody that has come out to accuse me, open a case on them, all of them. From 2017 till now, we are going to two courts, one is the court of man, the other is the court of God."
On Thursday, Force spokesperson Muyiwa Adejobi told reporters that operatives of the Intelligence Rapid Team arrested one of the suspects Yusuf Isah, 32, following an intensive investigation.
Adejobi said, "Following an intensive investigation into the fatal attack on the convoy of Apostle Johnson Suleman, the senior pastor and General Overseer of Omega Fire Ministries Worldwide, Auchi, on October 21, 2022, along with Benin police personnel, who were gruesomely murdered, the operatives of FIB-IRT on Auchi road comprising six people, including three of the assailants, apprehended one Yusuf Ismael Isah 'm', a native of Okene, Kogi State and a plumber, at Agbaraoluwa Phase 2 Ijoka, Akure, Ondo State and recovered five Ak47 Rifles, two K2 Assault rifles, 180 live ammunition and 4 suspected IEDs were found in his apartment."
Back to News