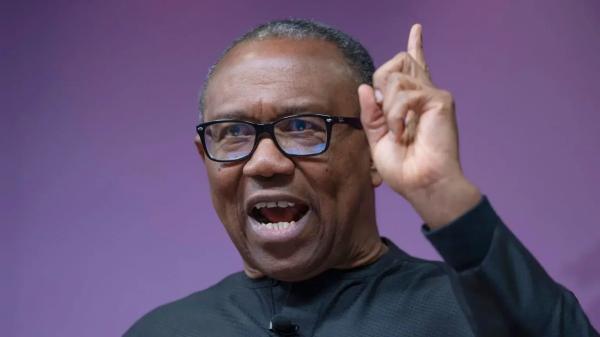 Peter Obi accuses APC, Tinubu of faking newspaper headlines
From: News Editor
Mon, 24 Jul 2023 || Nigeria,
The Obi -Datti Media Office has accused the All Progressives Congress APC, and President Bola Tinubu of faking a THISDAY Newspaper headline in an alleged desperate move to cast the Presidential candidate of the Labour Party, Mr Peter Obi, in a bad light to stir public anger against him for seeking justice at the Presidential Election Petition Cout.
In a statement signed by the Head of the Media Office, Diran Onifade, in Abuja, on Monday, which was made available to CEOAFRICA the LP candidate's media office said, "Presidential Candidate of the Labour Party in the February 25 2023 election, Peter Obi remains the phenomenal political leader of contemporary Nigeria that all good heads wants to hug but devious ones want to de-market, tarnish and if possible, destroy.
"As Obi's political profile continues to soar among Nigerians at home and in the diaspora, the envy, and anger against him by those envious of his positive attributes continue to rise.
"Obi-Datti Media office has noted how a worried ruling All Progressives Congress, APC and its Presidential Candidate, Bola Ahmed Tinubu are even wishing and pleading with the Presidential Election Petitions Tribunal PEPC to consider pairing them with Atiku Abubakar of the PDP instead of Obi and in fact, wants Obi disqualified outrightly and be prevented from participating in the rerun, should there be one."
Onifade further said, "In their desperation to stop Obi at all costs, they have lined up a series of untoward activities using rogue troll agents that seek to portray him negatively and copiously misrepresent him in public space.
"The latest machination is the production of a fake Sunday's edition of THISDAY NEWSPAPER of July 23, 2023, which they are circulating and purporting in their mischievous lead story that Obi granted an interview which they captioned as him saying: "Tinubu won but disqualify him and set a rerun between ATIKU and I."
"This devilish act is ostensibly to enable them to defend their call that Obi should be disqualified by the PEPC thus seeking a rerun between Tinubu and ATIKU.
"Obi-Datti Media recalls that last week the same rogue agents had claimed that Obi granted an interview on Arise Television saying he is willing to take defeat and wait for elections 2027.
"All this wicked and dubious propaganda is aimed at achieving one mission; to confuse the public, distract and defocus the Justices from their statutory responsibilities.
"We, therefore wish to urge the Nigerian public not to be gullible and to disregard the fake THISDAY publication and embrace the correct edition with the lead story, ATIKU: APC Plotting to Manipulate Judiciary, Undermine Democracy."
"They should also watch out for more of these sinister acts of desperation orchestrated by a drowning government that is visibly afraid of justice which must certainly come."
Back to News