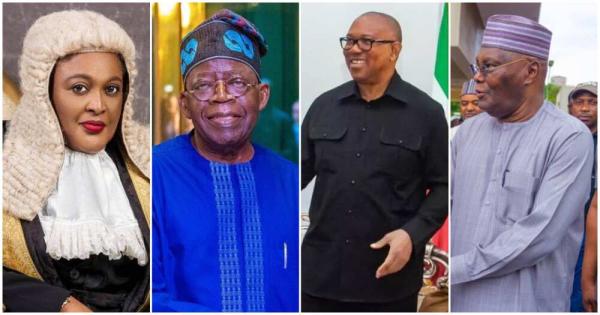 Mary Odili denies working for Tinubu to influence tribunal judgment
By: Abara Blessing Oluchi
Thu, 10 Aug 2023 || Nigeria,
Retired former Supreme Court Justice, Mary Peter-Odili has denied engaging in negotiations with judges of the court of appeal and the apex court to ensure that President Bola Tinubu gets a favourable judgment at the election petition tribunal.
Reacting to the claim through her spokesperson Felix Enebeli, Odili described it as "false and malicious". She added that her lawyers are on the issue and have demanded a retraction and public apology from Jackson Ude, a Twitter user who is allegedly behind the claim.
The statement read; "While the defamation arising from the false allegation has been referred to the lawyers of her lordship to deal with in accordance with the law, we consider it appropriate, particularly for the sake of the public, to issue this unequivocal denial of the false allegation.
"We deny every allegation contained in the publication and state that the publication is false, malicious, mischievous and a deliberate attempt at smearing the integrity and solid reputation of her lordship.
"We say nothing of the fact that the publication has the potential of inciting the public against her lordship on an issue of grave national importance.
"For the records, her lordship is neither a judicial consultant to anyone nor is she in any way connected with or involved in any of the presidential election petitions or any other election petition whatsoever. The public is hereby urged to disbelieve, disregard and ignore this false publication".
Back to News