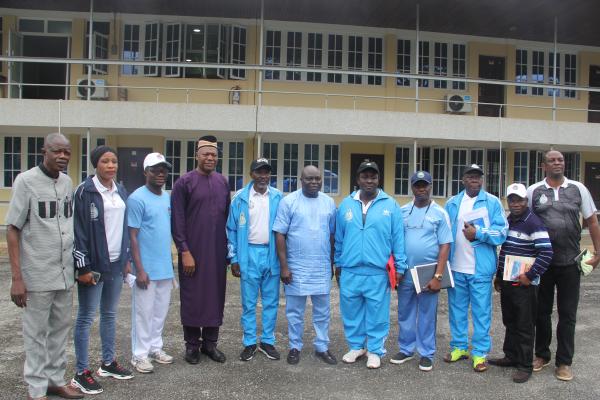 CRIN 2024 Games Festival: RIGAN Gears up for Historic Event
By: News Editor
Sun, 13 Aug 2023 || Nigeria,
The Research Institute Games Association of Nigeria (RIGAN) has inaugurated the Local Organising Committee of CRIN 2024 RIGAN Games Festival. This was made known in CRIN, Ibadan, on 9th August, 2024, during the inauguration of the Local Organising Committee (LOC). The game festival which is scheduled for December, 2024, is expected to host all the research and development institutes across the country.
In his address to the Local Organising Committee, Prof. O. F. Owolade, President of the Research Institute Games Association of Nigeria (RIGAN) assured the readiness of the association for the games festival next year. He said, "we are here to inaugurate the LOC for the CRIN 2024 RIGAN Games Festival. This is very important to ensure a successful hosting of the games festival. I am very confident of the high profile, and sport loving individuals that would appointed into the various subcommittees to organize the sporting event, logistics, sponsorship, security, and accommodation of contingents." He assured that he is so optimistic that at the end of the festival CRIN will become more feasible. While expressing his joy for the support of the LOC, he thanked the Executive Director of CRIN, Dr Patrick Adebola, for avowed commitment to the success of the games festival.
Commenting about the coming game festival , Dr Patrick Adebola, thank the President and the NEC members of the RIGAN for giving CRIN Ibadan the hosting right for the 2024 Games Festival. He emphasized the importance of sport which he said is a good tool for nation unity and development. He assured that CRIN will not do less of its self for the privilege of the hosting. He went further to challenge the LOC leaders and members to be up and doing to ensure maximum success for the RIGAN games festival. The CRIN Executive Director further used the opportunity to announce that the game festival will coincide with CRIN's 60th anniversary which will come up next, 2024, and assured of total commitment for the events.
The Chairman of CRIN Sport Committee and Director of Human Resources and Administration, Mr J.O. Onatunde Onanuga assured of high expectation and promised showing CRIN reputation for excellence, harping on leveraging on getting sponsorship from friends, alumna and partners of the institute.
The Public Relation Officer of RIGAN, Mr Amos Tabe used the opportunity to appeal to corporate organizations for support to make it huge success for RIGAN.
Dr Ogunjobi Taiwo, spoke person of CRIN assured of the institute preparedness for the successful hosting RIGAN games Festival .
The Research Institute Games Association of Nigeria (RIGAN) is a conglomeration of Thirty Five Research and Development Institutes under the aegis of the Federal Ministry of Agriculture, Science and Technology, Health, Education, Transport and Environment. The association is saddles with the objectives of publicizing the Research and Development Institutes and coordinating the various researches for public utilization. The association also encourages sporting competitions among members to boost friendship and cooperation among member institutes; and to ensure a healthy work force for the institutes
Back to News