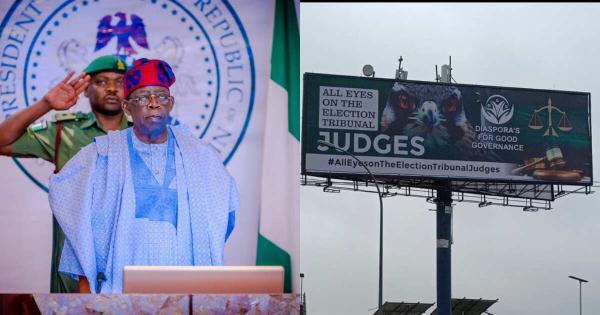 This is clear abuse of office – Atiku's aide slams President Tinubu over destruction of Billboards in Abuja
By: News Editor
Wed, 16 Aug 2023 || Nigeria,
Phrank Shaibu, an aide to the presidential candidate of the Peoples Democratic Party (PDP) in the 2023 elections, Alhaji Atiku Abubakar, has reacted to the destruction of billboards titled 'All Eyes on the Judiciary' in the Federal Capital Territory.
CEOAFRICA reports that the federal government had ordered the pulling down of billboards drawing public attention to the judiciary as Nigerians await the verdict of the Presidential Election Petition Court.
The Federal Government also disbanded the Secretariat of the Advertising Standard Panel due to its endorsement of billboards accused of attempting to manipulate the verdict of the Presidential Election Petition Tribunal.
A statement by the Advertising Regulatory Council of Nigeria had earlier conveyed the panel's dissolution on Tuesday.
Also speaking to CEOAFRICA source the Director-General of the ARCON, Olalekan Fadolapo, said sacking the panel became necessary due to its failure to disapprove an advert that did not comply with the commission's vetting guidelines.
He added, "Before the material gets to the panel, they are the first to review the material, to check its alignment with vetting guidelines and procedures. They failed in their own responsibility to spot that. That is why they were sacked."
But in a swift reaction, Atiku's Special Assistant on Public Communications, Phrank Shaibu, described the destruction of the billboards as clear evidence of "President Bola Tinubu's authoritarianism and assault on the freedom of speech."
Shaibu said, "The basic principle of social justice is about the people. The advertisers of the billboards only did what the norm is in civilised climes. It was the agents working to impress an interest that read meanings to that innocuous advert.
"Otherwise, it is a basic principle that eyes must be on the wheel of justice. Eyes must naturally be on the wheel of justice because when justice is delivered, it must be 'seen' to have been just! In any case, both Tinubu and the APC are before the same court. It is curious how they find this particular message upsetting. Anyway, even if they pull down the billboards, they can never stop all eyes from being on the judiciary at this historic time."
"Tinubu has, once again, put his dictatorial tendency on public display."
"This is a clear case of abuse of office and reinforces the argument that court cases ought to be concluded before the inauguration so that beneficiaries of fraudulent elections would not be able to manipulate the system in their favour," Atiku added.
Back to News