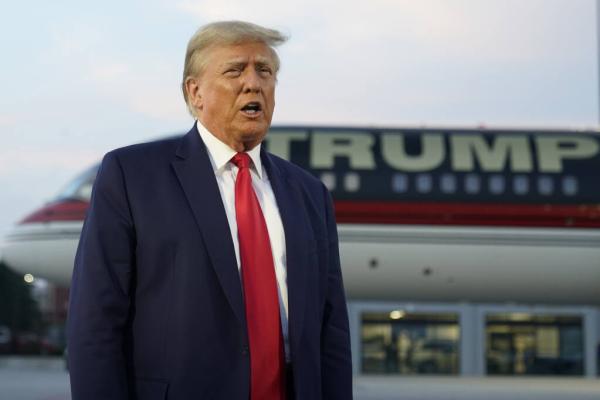 Ex-US president, Donald Trump surrenders to authorities on charges he tried to overturn his 2020 election loss
By: Abara Blessing Oluchi
Fri, 25 Aug 2023 || Nigeria,
Former United States President, Donald Trump has surrendered himself to authorities in the state of Georgia in response to 13 felony charges handed down by a Fulton County grand jury.
Trump, 77, arrived at Rice Street Jail in Atlanta, where he is expected to get fingerprinted and have a mug shot taken. He will then be released on a $200,000 bond, which was negotiated earlier in the week.
Recall, that Trump was indicted in a fourth criminal investigation on August 14 after prosecutors presented evidence related to the former president and his political allies' attempts to reverse the outcome of Georgia's 2020 election.
A 23-member grand jury, by majority vote, approved the criminal charges proposed by Fulton County District Attorney Fani Willis' office. The outcome was a 98-page indictment containing 41 counts against a total of 19 defendants.
The 13 felony counts against Trump include, among others, violating the Georgia RICO Act, filing false documents, and various conspiracy charges.
With the new charges out of Fulton County, Trump now faces a total of 91 criminal counts across four different cases, several of which carry recommended prison time. He would face a mandatory minimum sentence of five years if convicted of violating the Georgia RICO Act, which is a "serious felony."
The indictment also charged 18 of Trump's associates, such as his former White House chief of staff, Mark Meadows; attorneys Rudy Giuliani, Sidney Powell, John Eastman, Jenna Ellis, Bob Cheeley, Ray Smith III, and Kenneth Chesebro; former assistant U.S. attorney general Jeffrey Clark; former Georgia Republican Party Chairman David Shafer; and current Georgia state Sen. Shawn Still.
So far, about 19 defendants have been surrendered at the county jail.
Back to News