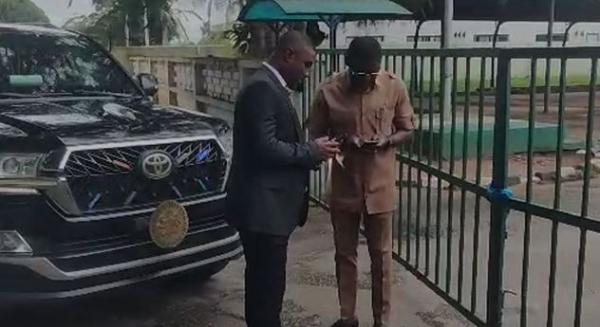 BREAKING: Deputy Gov. Philip Shaibu frustrated; locked out of Edo Govt House Office
By: Abara Blessing Oluchi
Mon, 18 Sep 2023 || Nigeria,
The Deputy Governor of Edo State, Philip Shaibu, was not allowed to have access to his office at the Government House in Benin, the state capital.
Shaibu arrived at the Government House on Monday morning but met the gate leading to his office under lock and key.
Speaking on the development, the deputy governor said he is yet to receive official communication that he should relocate his office.
"Up till now, I don't have any official communication that I should relocate. The only people that have official communication are my civil servants. The civil servants have official communication but I don't. As I am speaking to you now, I am standing by the gate," a frustrated Shaibu stated while on a phone call to a yet-to-be-identified person.
Shaibu is now expected to forcefully move to a new office situated at No 7, Dennis Osadebey Avenue, GRA, Benin City.
Last week, a letter said to be from the office of the Head of Service, Anthony Okungbowa, was reported to have been sent to the Permanent Secretary, Office of the Deputy Governor directing Shuaibu to relocate to the new office.
The development is the latest in the tussle between Governor Obaseki and his deputy.
Obaseki had accused his deputy of plotting a coup against him. The governor said Shaibu has become too desperate for power and exploring all ways to succeed him.
Obaseki added that Shaibu is yet to inform him of his ambition but he is aware of all his plots.
Despite all the claims by Obaseki, Shaibu has continued to pledge allegiance to the governor publicly.
Recently, Shaibu described his principal as a brother, saying he remains loyal to him but hinted that he will not back down on his ambition.
"As for the issues that are around town when I was away, I really would not want to talk. Issues that concern my governor are not things I like to speak about on camera. No, no, no! He is my elder brother and boss and I don't think I should talk about anything. And if I have issues with him, I think it is better settled at home and not in the media. I am well brought up," he said on the sidelines of a thanksgiving service in Benin to mark the 32nd anniversary of Edo State.
"I can tell you that from my Christian background if you make a vow with God that you want to do something, you must fulfill it. And the vow I have taken with God is that I will continue to support Godwin Obaseki as the governor of Edo State from the beginning to the end.
"But that does not stop anything that has to do with ambition. Ambition is personal and it does not affect loyalty. My loyalty to the governor remains absolute. I see that everybody is doing solidarity. I am also in solidarity with the governor. I am also declaring my unalloyed solidarity and loyalty to the governor and nothing more."
Back to News