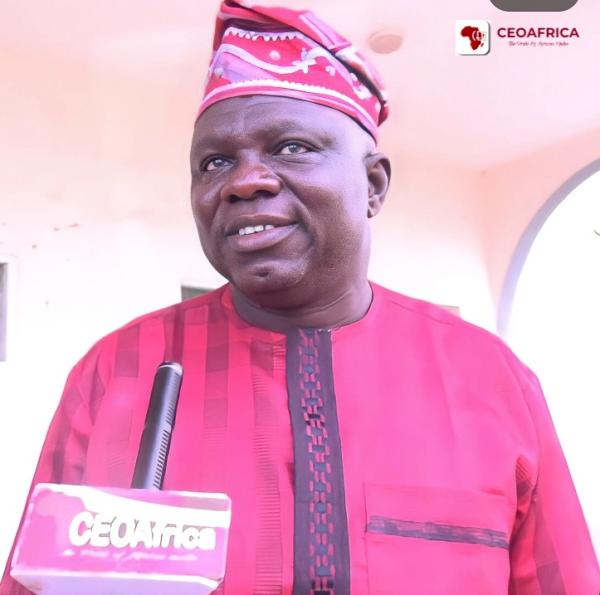 Dr Adekoya Owosibo, Provost, Federal College of Animal Health and Production Technology, Ibadan
Report any lecturer asking for Sex for Marks - Provost, FCAH&PTIB urges students
By: Abara Blessing Oluchi
Fri, 20 Oct 2023 || Nigeria,
The Provost, Federal College of Animal Health and Production Technology, Ibadan, Dr Adekoya Owosibo has called on the students of the institution to report any lecturer of the school that want to take advantage of them by asking for sex to give them mark.
This fierce call was made during a 3-day orientation programme which was organized by the school to inform the students about the 'Dos' and Don'ts of the school; and also the expectation of the school.
While addressing the students, Owosibo urged them never to fall a victim to any lecturer who try to extort them by the sales of handout or books.
In an interview with CEOAFRICA, the provost clearly stated that the purpose of the orientation was to tell the students about what it takes to be in a tertiary institution. He said it is good for them to know how to curtail their freedom so that they will not be introduced into the menace that is going on in the society today.
In his words, "most of these new students are coming green from secondary school. They have not had freedom from their homes in the past; so we need to orientate them about what it takes to be in our prestigious institution. They need to know how to curtail their freedom so that they will not be lured into the menace that is going on in the society today.
These are days when young people are involved in yahoo yahoo, hook up, banditry, cultism and all forms of menace. So many of them are coming with hope of being trained and going out with good certificate, some will end up being withdrawn from the school if they lost focus on the academic activities of the school."
The provost went further to state that the essence of the orientation is to inform them about the expectation of the school.
"We have told them during orientation the reasons why they should concentrate on their academics and not be misled. We have also told them that all works and no play makes jack a dull boy.
Sporting activities is available in the school and all other side attractions; however, all things must be done with moderation, so that they will not be distracted from their major reason of coming to study in our school."
He added further that substance abuse is not allow in the campus. "We told them: you have to sleep when you have to sleep, you don't have to use one means or the other to keep yourself awake or whatever."
While speaking on what to do if any lecturer does less of his or her self by asking for sex for marks, the provost revealed that the culprit will face the full wrath of the law. "Hence, any student who is being victimised is 100% free to report the lecturer to him or other school authority." He warned.
The Provost said "We frown at anything that has to do with any financial transaction between students and lecturers or form of immorality having to do with sex for marks. We do not tolerate such. We have a unit that is called ACTU (Anti-Corruption Transparency Unit). The unit are saddled with the responsibility of looking into cases of such. We also have a suggestion box which any student that is abused or anything of such, can freely write anonymously and drop in that box for us to look into. And if for any reason you can stand to prove your point, you can walk up to the provost, Directorate of academic planning or Dean of students to report any unethical and immoral attitude. This will enable the management to call the lecturer, technologist and/or other categories of staff to order.
Besides, the provost spoke concerning sales of handout to students. "This is a federal institution; there is no lecturer that has the right to sell anything to the students. If you have done any academic activity or write up and we look at it in the office of the directorate of academic planning, and we feel it's good for the students, the students can buy through the school arrangement." He warned that no lecturer can sell anything under any guise to any student.
He welcome the students to the school and urged them to heed to all the advice they were given and excel in their studies.
Back to News