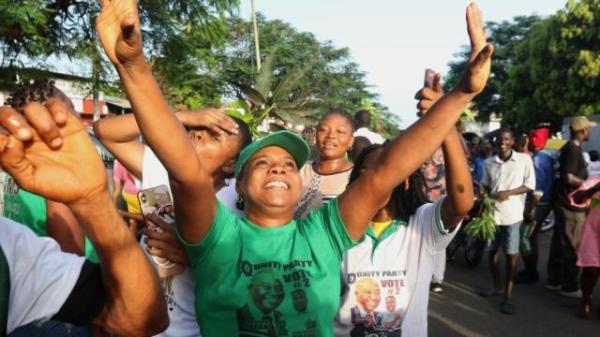 Car crashes into Boakai supporters, at least 2 dead in Liberia
By: Abara Blessing Oluchi
Tue, 21 Nov 2023 || Liberia, Liberia
A car ploughed into a crowd of supporters of politician Joseph Boakai in Monrovia on Monday evening, killing at least two people and injuring many more, hospital, police and political sources said.
A police official interviewed by AFP would not comment on the cause of the tragedy. A spokesman for Mr Boakai's party said he had little doubt it was deliberate.
The driver of the vehicle is missing, the police official said.
"There are two dead and one person is in a critical condition," Sia Wata Camanor, an official at John F. Kennedy Hospital, Monrovia's main hospital, told AFP overnight. Twenty people were injured, she added.
These incidents occurred on the very evening that the National Electoral Commission announced Mr Boakai's narrow victory over incumbent George Weah in the run-off presidential election on 14 November.
The election was marked by fears of violence after the announcement of the results, but Liberia's foreign partners hailed the peaceful way in which the country emerged from years of civil war in 2003.
Supporters of Mr Boakai were celebrating the victory outside the party's offices in the centre of the capital when, between 9.00 pm and 10.00 pm local time (and GMT), a vehicle parked nearby flashed its headlights, then switched off its lights and ploughed into the crowd, reported Mohammed Ali, spokesman for the Unity Party, citing eyewitness accounts.
Videos posted on social networks showed many bloodied people lying on the ground, some receiving assistance, others inert.
Mohammed Ali initially mentioned the death of 10 people, but this figure was later not corroborated."We don't know who did it, but we find it hard to believe that the car had a mechanical problem or that its brakes failed because we were told that it was parked (nearby), flashed its headlights at the fans and drove straight into them," the spokesman added.
Police official Melvin Sacko said the vehicle rammed into people and burst into flames. He did not comment on the exact number of casualties but said that at least 16 people, 12 men and four women, had been hospitalised at one hospital.
Back to News