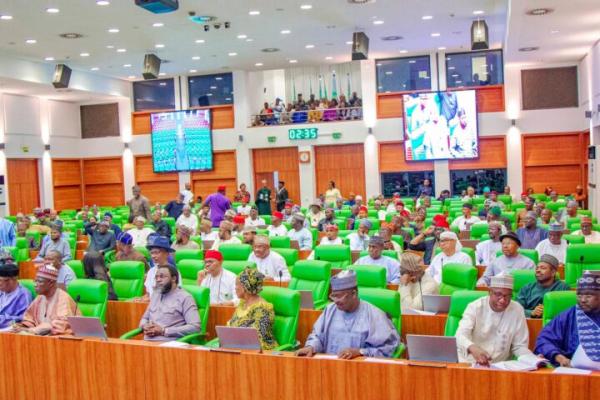 Security chiefs list challenges, needs at meeting with Reps
By: Abara Blessing Oluchi
Tue, 21 Nov 2023 || Nigeria,
The service chiefs and the Inspector General of Police (IGP), Kayode Egbetokun, have listed their challenges and needs in a bid to improve the security situation in the country.
They made the request while appearing before the House of Representatives on Tuesday.
The service chiefs include the Chief of Defence Staff (CDS), General Christopher Musa; Chief of Army Staff (COAS), Lieutenant-General Taoreed Lagbaja; Chief of Air Staff (CAS), Air Marshal Hasan Abubakar; and Chief of Naval Staff (CNS), Vice Admiral Emmanuel Ogalla.
The Chief of Naval Staff, Vice Admiral Emmanuel Ogalla, requested that the National Assembly intervene in enhancing surveillance to cover the backwaters, creeks, and other areas behind the coastline.
According to him, if this is done, oil theft, pipeline vandalisation, and illegal refining will be monitored 24 hours consistently.
IGP Kayode Egbetokun outlined some challenges within the force, including poor logistics provision, insufficient patrol vehicles for police divisions, inadequate training, and poor welfare of personnel.
CDS Musa requested improved funding, disclosing that every military man including himself is fed N1,500 per day.
The defence chief wanted the collaboration of the judiciary to ensure that criminals are not released on technicalities and that special courts address the arrest of high-level criminals.
He expressed concern that it puts the safety of security personnel at risk, adding that Simon Ekpa was a menace to the country and that action must be taken diplomatically.
On illegal mining, Gen. Musa expressed a desire for states to take over for proper management.
The security chiefs were ushered into the green chamber for the security sectoral debate around 11:26 am.
This came after last Thursday's criticism of the security heads by the lawmakers for sending representatives, who were rejected.
With the appearance of the service chiefs and IGP at the plenary session on Tuesday, they took turns outlining individual efforts to address the country's security situation.
After a round of questions from the lawmakers, the House went into an executive session to receive answers from the security heads.
Back to News