Nigeria :: News
Chrisland University Maiden Entrepreneurship Conference sets to hold Sept 15th
Sep 14, 2020
Source: CEOAFRICA NEWS: Reported by Blessing Sunday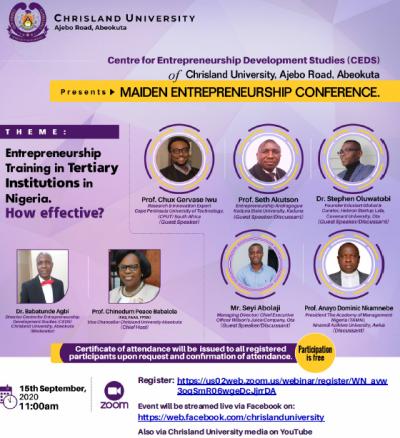 Flyer
NIGERIA
In a bid to encourage entrepreneurship sustenance and effectiveness in various Higher Institutions across the country, Chrisland University located at Ajebo Road, Abeokuta, Ogun State will be holding her Maiden Entrepreneurship Conference on the 15th of September, 2020 at 11:00am via zoom application.
The conference which is championed by the University's Centre for Entrepreneurship Development Studies (CEDS), themed, "Entrepreneurship Training in Tertiary Institutions in Nigeria- How Effective?" is expected to have as many participants as possible.
The Chief Host of the event is the Vice-Chancellor of the Institution, Prof, Chinedum Peace Babalola who will be joined with a host of other distinguished speakers and discussants that include the moderator of the event and Director of CEDS, Dr. Babatunde Agbi; Research & Innovation Expert Cape Peninsula University Technology (CPUT) South Africa, Prof. Chux Garvase Iwu, Guest speaker; Entrepreneurship Andragogue, Kaduna State University, prof Seth Akutson, Guest speaker and discussant; MD/CEO Wilson's Juice Company, Ota, Mr. Seyo Abolaji, Guest speaker and discussant; Founder Edustart Global & Curator, Hebron Startup Lab Covenant University, Ota, Dr. Stephen Oluwatobi, Guest speaker and discussant; and Discussant, Prof. Anayo Dominic Nkamnebe, President of the Acadaemy of Management Nigeria (TAMN), Nnamdi Azikiwe University, Akwa.
Participation is free, while the certificate of attendance will be issued to all registered participants upon request and confirmation of attendance. Interested persons can register via https://us02web.zoom.us/webinar/register/WN_avw3oqSmR06wgeDcJjrrDA
The event will be streamed live via the University's Facebook page on https://web.facebook.com/chrislanduniversity and also via her YouTube channel.
Headlines (Nigeria):
Read our other news items below...