Nigeria :: News
WISTA: Group embarks on protest march against incessant truck accidents in Lagos State, appeals to State Government
Sep 19, 2020
Source: CEOAFRICA NEWS: Reported By— Rahmatu C. Ibrahim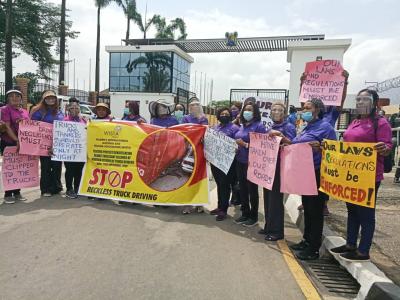 The Women's International Shipping and Trading Association (WISTA) Nigeria, has appealed to the Governor of Lagos State, Babajide Sanwo-Olu to critically look into the matter of ending container-laden truck related accidents, emphasizing that killer drivers and their companies must face the full wrath of the law.
This appeal was made in a peaceful protest march organized by the group on Thursday September 17th 2020 at the Lagos State Governor's office in Alausa, Ikeja.
Representing the opinion of the members of the group, the President WISTA Nigeria, Mrs. Eunice Ezeoke in her address to the Lagos State Government and relevant security and transport agencies, stated that all container-laden trucks must meet safety conditions before plying all Nigerian roads.
Ezeoke added that it is the association's duty as women practitioners in the Maritime Industry to draw the attention of the relevant authorities in curbing the increased rate of these accidents, emphasizing that it is largely due to the reckless driving of the truck drivers who are mostly under the influence of alcohol and drugs.
She further stated that agencies statutorily charged with the legislative power to end this menace should swing into action for the immediate implementation of laws that will bring sanity to this menace putting an end to it for the safety of lives and properties.
Also speaking at the rally, the Vice President of WISTA Nigeria Mrs. Anna Akpan made an appeal to the Federal Government and the Governor of Lagos State to speedily address the appalling conditions of the road which is also a huge contributory factor to container-laden truck accidents, as it has brought untold pain and hardship to family members who have lost their loved ones to these accidents.
She appealed to the Lagos State Transport Management Authority (LASTMA), and other stakeholders to ensure that all trucks heading to the ports or exiting the ports, should be properly latched in a bid to minimize the accidents.
Speaking in one voice, the group maintained that defective trucks must stay off the roads as old trucks are ticking time bombs. They also agree that overhead bridges in the state should not be used as truck parks or terminals as this causes undue traffic. Most especially, they emphasized that Nigerian laws and regulations must be enforced.
Headlines (Nigeria):
Read our other news items below...