Cameroon :: News
CERDOTOLA releases manifesto for structurally deconfining Africa
Nov 21, 2020
Source: CEOAfrica News: Reported by-Blessing Osajie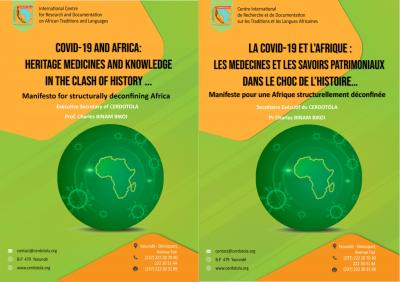 YAOUNDE
The international Centre for research and documentation on African Languages and Traditions (CERDOTOLA) has released what it terms as a manifesto for structurally deconfining Africa; a book with the title "Covid-19 and Africa: Heritage Medicines and Knowledge in the Clash of history".
The book which was penned by the Executive Secretary of CERDOTOLA, renowned Professor Charles Binam Bikoi, questions the logic of development and shatters the myth of the hegemony of established powers-the West.
It also decries the international pharmaceutical despotism over Africa, encouraging Africans to look inward to their mutual knowledge in healthcare, as the success of Africa in managing the COVID-19 pandemic has shown.
The MUSE project of CERDOTOLA is just a perfect platform for the "Mutualisation of endogenous knowledge" as it has been created for exchange and sharing of experiences between researchers and practitioners.
According to the book, among the major components of this MUSE project is traditional medicine which stands out, once again, as the royal road open to African States and Governments to move past the international pharmaceutical despotism over Africa.
The book further examines various means by which Africa can become indeed free, and features call to action for individuals, groups, and governments in Africa and of African descent.
To get a copy of the book, individuals are advised to contact CERDOTOLA via email at contact@cerdotola.org, via the website, www.cerdotola.org or by calling, (237)222207040, (237)222303144, (237)222303189.
Headlines (Cameroon):
Read our other news items below...