Egypt   ::   News
President Sisi reviews emergency support program for citizens suffering from pressing problems
Feb 26, 2021
Source: AGENCY REPORT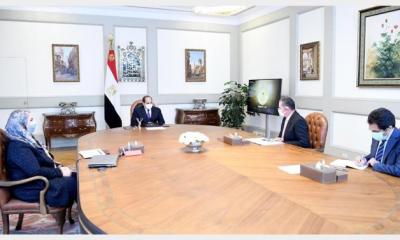 Egyptian President Abdel Fattah El-Sisi reviewed on Thursday the emergency support program for families and citizens suffering from social problems that require immediate intervention.
The president's remarks came as he met with Minister of Social Solidarity Nevin El-Qabbaj and the president's advisor for financial affairs, Mohamed Amin.
Sisi urged providing technical and financial support to the the mechanism of this program, known as the "social aid" mechanism, to ensure all citizens with urgent needs are immediately reached.
The president also urged involving youth in this activity to benefit from their potentials, creative ideas and their high readiness to participate in this charitable work.
Sisi also called for involving the civil society organizations in this effort and instructed officials to periodically follow up on the performance and the outcome of the project to ensure the integration of its services with the state's strategy to secure a decent life for the Egyptian citizens.
The president was also briefed on the ongoing programs to support the system of fishermen protection. The president urged providing those fishermen, within the program, with the necessary equipment and requirements. He also urged the expansion of the local production of these tools.
The President also was updated on the community development efforts in the villages.
Sisi gave directives for expanding the rehabilitation programs for women pioneers in rural areas, with the aim of disseminating the correct information concerning the social, educational and health aspects for all members of the rural family- in a manner that supports the concept of comprehensive social protection.
He called for intensifying those efforts and activities in harmony with the national project to develop the Egyptian countryside, thus helping social programs carried out by various executive government agencies become a success.
During the coming period, these programs are planned to be applied on ground in the Egyptian countryside.
These efforts would result in improving the overall economic and social conditions of the villagers and services provided to them in the Egyptian countryside.
  Headlines (Egypt):
Read our other news items below...