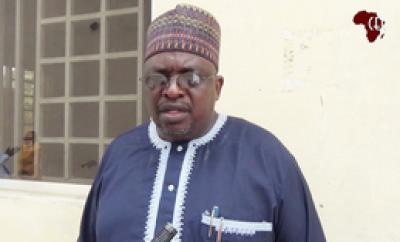 Extension Workers need capacity building to function maximally - Prof Yahaya Kuta
By:
Mon, 3 May 2021 || Nigeria,
Professor of  Agricultural Extension & Communication, University of Ibadan,  Mohammad Yahaya Kuta, has said that there is need for capacity building among agricultural extension workers to enable them function maximally.
Prof. Yahaya made this statement at the opening ceremony of the Joint Annual Research Review organized by the Institute of Agricultural Research and Training, Moor Plantation, Ibadan.
In an exclusive interview with CEOAFRICA, the avid professor stated that adequate training that meets current global standard is what extension workers in Nigeria need in order to bridge the gap between farmers and researchers.
He charged government at all levels to see extension as an indispensable actor in agricultural system.
"This capacity building is a function of training the extension professionals in line with current global thinking in addressing climate smart agriculture and in case of emergencies like Covid-19.
"These are some of the issues that are fundamental. If you don't have people who are properly trained, who are still traditional in their conduct of extension practices in a globally supersonic jet of information age, you know we are going to have problems. So I believe the time to act is now and change the narrative of poor extension linkage system with research.
"First of all, government at all levels must recognise extension as an indispensable actor in the entire agricultural system. When we do that, we are now going to pay attention to the funding and training of extension workers, and to providing infrastructural support in terms of logistics, in terms of what they need to be able to operate," Yahaya stated.
The erudite Professor asserted that Nigeria has not developed beyond public extension, noting that it has mounted undue pressure on the public extension system making it a burden.
"We are perpetually public extension system dependent. We've not developed to the level where private extension service will contribute maximally because of the social nature of extension activities.
"It is like a social service, because you want to bring people out of poverty, you're already down and you want to lift them up. How do you want to lift people out of poverty and still ask them to pay?
"They begin to see it as a burden. So because of this, there must be some intervention from the government to ease that burden by providing the delivery system with network of support service that will make it work.
Professor Yahaya opined that there is need for Nigeria to employ ICT and other technological innovations to be able to drive forward the goal of engaging youths in agriculture.
"ICT is the driver of the global information system now. You cannot do any development paradigm without information and communication system that are efficient. The advocates that we are of development communication intervention in development areas, agriculture, health education and so on is timed for development communication to be properly situated in the development agenda of Nigeria in terms of institutional capacity building, and in terms of integration, so that all the potentials can be harvested adequately.
"For example, Nollywood is a global product and we have not maximised it for development initiative, we have only used it for entertainment. The entertainment-education concept has always been small which is very sad. Then you now have virtual reality shows that are becoming more of a lifestyle for young people. Take for example the Big Brother Naija show, it is one of the avenues young people like expressing themselves. They spend millions patronising and following it.
"Can't government harvest these people, engage them and give them messages that can change our narrative in terms of agricultural system, in terms of food system, in terms of interventions, engendering youth initiatives. These are some of the potentials, and these are some of the things I highlighted in my presentation that Nigeria must go innovative in terms of agricultural communication system, in terms of extension system" he said.
Back to News