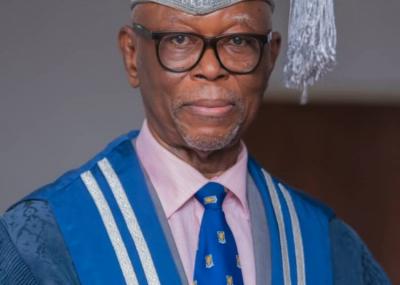 Behold the Profile of New Pro-Chancellor and Chairman of Council of University of Ibadan, Chief John E.K Odigie-Oyegun CON
By:
Tue, 11 May 2021 || Nigeria,
Tuesday 11 May 2021: Chief John Evboyomwan Kenneth Odigie-Oyegun was born on 12 August, 1939 into the family of Pa Daniel Osagiede Odigie-Oyegun, MBE and Mrs. Shaka Elizabeth Oyegun, new Amurun.
He was admitted to the University College, Ibadan in 1960 and bagged a Bachelor of Science, (Hons) in Economics in 1963. He was a resident of Kuti Hall where he served as the Hall Secretary.
Postgraduate institutions attended by this distinguished Nigerian include: United Nations Economic Development and Planning Institute, (IDEP) Dakar, Senegal between 1966 and 1967 where he was the only participant that earned his Postgraduate Diploma at merit level; and the Economic Development Institute of the World Bank, Washington DC, USA in 1970.
He joined the Federal Civil Service in 1963, worked in various capacities and at different levels and was appointed a Federal Permanent Secretary in 1975 at the age of 36. In this capacity, he served Cabinet Office, Ministry of Science and Technology, 1982 -1983; Ministry of Internal Affairs, from February to September 1984; and Ministry of Commerce and Industry, from September 1984 to December 1985.
By retirement in December 1985, he had put in a total of twenty two years in the Federal Public Service, nine of which was as Permanent Secretary.
Chief Odigie-Oyegun, at various times, served in the Board of many public, private and international entities. Some of these include the defunct Nigeria Airways, Nigerian National Shipping Line, Nigerian Ports Authority, Regency Paints Ltd, Editorial Board of Guardian Newspapers etc.
He was also a member of the Governing Council of the Federal University of Technology, Akure (FUTA) and also represented Nigeria on the Board of the International Atomic Energy Agency (IAEA).
With his wealth of planning and management experience, in 1989, he ventured into politics in which he made a significant success against all odds. In 1991, he contested and won on the platform of the Social Democratic Party (SDP) and became the first Executive Governor of Edo State in January 1992. He has since remained a principled yet prime actor on the Nigerian political stage.
A man of steadfast principle, courage and conviction, he sacrificed all to play a key role in the crisis that followed the aborted and now historic June 12 elections of 1992 and the crisis that followed. A staunch member of National Democratic Coalition (NADECO), Chief Odigie-Oyegun paid a steep price when he was forced into exile where he emerged as the Executive Secretary to the NADECO-Abroad. Along with the likes of Chief Anthony Enahoro, Prof. Bolaji Akinyemi, Asiwaju Bola Ahmed Tinubu and Prof. Wole Soyinka among many others, he waged a relentless struggle for a permanent end to military rule and the restoration of democracy in Nigeria.
Chief Odigie-Oyegun was the Deputy National Chairman, (South) All Nigeria Peoples Party. He was also the Vice-Presidential candidate of the party and later member of the Action Congress of Nigeria (ACN).
He was a Foundation member of and First National Chairman of the All Progressive Congress (APC).
An Industrialist and businessman, he is Chairman of many companies including Teletok Nigeria Ltd, Lagos and Imperial Woodwork Industries Limited, Benin City, Edo State.
Chief Odigie-Oyegun belongs to several professional and social clubs including the Metropolitan Club, Lagos. He was a past President of Rotary Club of Ikoyi. He is a member of Nigerian Economic Society (MNES); a Fellow of the Nigerian Institute of Management (FNIM); a life Trustee of the Benin Club. He is a life sustaining member of the University of Ibadan Alumni Association and a very active member of the Benin Branch.
Chief Odigie-Oyegun got married to Mrs. Victoria Nkosenyem Oyegun (New Ugbode) in 1965 and the marriage is blessed with adorable children.
He succeeds Nde Waklek Joshua Mutka, mni, whose tenure ended on 18 April, 2021.
Back to News