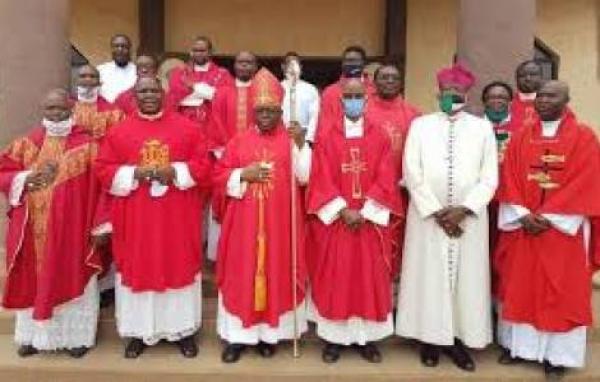 The Catholics Bishops of Ibadan Ecclesiastical providence
Catholic Bishops crises out, says Nigeria is no longer at ease
By: Cletus Sunday Ilobanafor
Thu, 22 Jul 2021 || Nigeria,
The Catholics Bishops of Ibadan Ecclesiastical providence , comprising Ibadan Archdiocese, Ilorin, Ondo, Oyo Ekiti and Osogbo Diocese have said that developments in the country show that justice, equity and fair play have clearly fallen apart and the country is no longer at ease. Following these, they noted that the very soul of Nigeria needs to be recovered.
These were contained in the communiqué issued at the end of Bishops of Ibadan Ecclesiastical Province, 2021 meeting, from July 19-20, 2021
A statement made available to CEOAFRICA by the Catholic Bishop of Oyo Diocese ,Most Rev Dr Emmanuel Badejo , which the communiqué was signed by Most Rev. 'Leke Gabriel Abe­gunrin and Most Rev. John Akin Oyejola, the Chair­man and the Secretary, re­spectively. The meeting was held at the Domus Pacis Pastoral Institute, Igoba, Akure, Ondo State.
Entitled, 'Recovering the Soul of the Nigerian Nation', the communiqué, which noted that "Nigeria seems to have lost its very soul because it is no longer a healthy entity", admon­ished Nigerians to stand firm and not lose hope but continue to pray and work for a better nation.
The bishops also lament­ed that the alleged high lev­el of despondency in Nige­ria could make the people to lose hope and zeal for democracy.
Though the clergies be­moaned the alleged untidy political developments in the country, they, however, maintained that the situa­tion was redeemable if the people would return to the path of God.
"To all our fellow Nigeri­ans, we say, stand firm and never lose hope for God cannot be defeated.
"We call on Nigerians to continue to pray and work for a better nation for we have no other country than this. If we do not give up do­ing good and believing in God's promise, we shall see better days", the communi­qué noted.
They said the good health of any nation con­sists in its capacity to of­fer its citizens a territory where they can feel at home, feel secure and enjoy the basic necessities of life.
But they noted that this unfortunately is no longer the case in Nigeria, where armed conflicts, armed robbery, kidnapping for ransom, insurgency, ban­ditry and extra-judicial killing persist as the order of the day.
Back to News