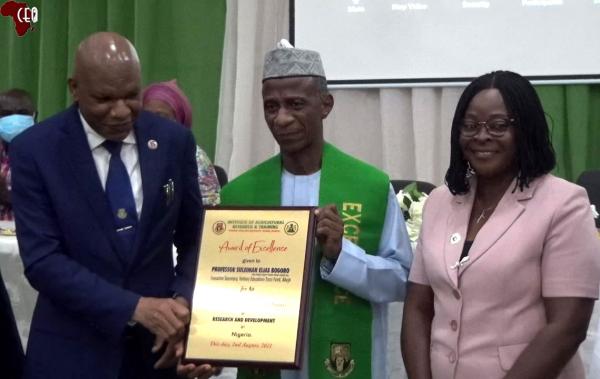 L-R Vice-Chancellor, OAU, , Professor Eyitayo Ogunbodede,Executive Secretary , TETFUND, Professor Suleiman Elias Bogoro ,Executive Director, IAR&T, Professor Veronica Obatolu,
TETFUND Executive Secretary, Professor Bogoro Delivers IAR&T Annual Lecture urges the Institute to focus on Problem-Solving, Nation-Fixing Multidisciplinary Research
By: Cletus Sunday Ilobanafor
Tue, 3 Aug 2021 || Nigeria,
The Executive Secretary of the Tertiary Education Trust Fund (TETFUND), Professor Suleiman Elias Bogoro, FAS, delivered the First Annual Lecture of the Institute of Agricultural Research and Training (IAR&T) Moore Plantation Ibadan
The erudite Professor who spoke on the theme: "Research for Development in Agriculture Sector: The role of Research Institutes in Innovative Value Chain transformation '. The lecture was delivered at the E.A Adebowale Training Hall , Moore Plantation, Ibadan, Oyo State Nigeria
Prof Bogoro called on IAR&T to focus on problem-solving and nation-fixing multidisciplinary research that responds to national aspiration with forex earning potentials.
The Executive Secretary, Tertiary Education Trust Fund, Abuja, Professor Suleiman Elias Bogoro, made the call while speaking as the Guest Lecturer during the maiden annual lecture of the institute titled: Research Development in Agriculture Sector: "The role of Research Institutes in innovative Value Chain transformation" on Monday.
Bogoro noted that IAR&T can attain global competitiveness provided it focusses on the institutionalisation of research and development in the agricultural sector of the economy by leading the implementations of recommendations of global, continental, regional and national development requirements.
He further stated that: "The institute should embark on the development of prototypes for the commoditisation of the priority agricultural value chains in Nigeria and imbibe the national gold standards in the value addition processes and product development to be globally competitive.
" IAR&T should change the narratives of farmers-herders crisis by embarking on strategic studies that will lead to evidence based, science led sustainable solutions to save the country from inestimable losses of lives and properties. The institute should lead research and development efforts that will reduce drudgery in our national agricultural systems using Information and Communication Technology and other emerging technologies." He said.
Bogoro, also stated that the core mandates of research and training of IAR&T should be leveraged to lead Nigeria's agricultural sector towards becoming the pivotal sector of the new knowledge economy.
"It is worthy of note that the traditional outputs of agricultural activities include food for humans, feed for animals, raw materials for industries, job/income for the citizens and revenue for government.
"This rejuvenation of these outputs using research and development tools will reposition IAR&T as a national and global reference institute."
In his opening remarks, the Vice-Chancellor, Obafemi Awolowo University, Ile-Ife, Professor Eyitayo Ogunbodede, informed that IAR&T is a multi-commodity areas (soil, crops, livestock, value addition and extension farming systems) towards the ultimate goal of supporting the nation to achieve self-sufficiency in food and industrial raw material production within a very short time.
He said:"In quest for up-to-date information on research for development, as well as becoming a centre of excellence in agricultural research, the management of IAR&T deemed it fit to start the institute's annual lecture and the maiden edition which is holding today."
The First Female Executive Director of the Institute, Professor Veronica Obatolu, while welcoming guests to the First Annual lecture said: "It is not an overstatement to note that the desire for the diversification of our national economy away from mono-product economy based on oil can only be achieved through research-driven value chain development in agriculture.
"That is why IAR&T is delighted and immensely proud to initiate an annual lecture like this and the first of its kind which was delivered by no other person than Professor Suleiman Elias Bogoro, the Executive Secretary of TETFund, who has been playing a significant role in recognising and promoting research and development in our research and training system towards the socio-economic development of our nation."
While speaking on the lecture, Prof. Olawale Albert, the Professor of African History, Peace and Conflict studies and the pioneer Dean, Faculty of Multidisciplinary Studies, University of Ibadan commended the Executive Director of IAR&T, Prof Veronica Obatolu and her team for her leadership quality and for providing such a great platform. He also commended the Executive Secretary of TETFund on his timely and admirable approach on the question of the day "Research for what?, Research for who?". Buttressing the point of the guest speaker, he stated that having the highest number of scholars and at the same time the highest problems on the continent is contradictory. "this is exactly what we should take a critical look at and if we take the suggestions of Prof. Suleiman into deep consideration, we will get to a point where our scholarship will begin to contribute to the development in Nigeria".
In an exclusive interview with CEOAFRICA, Emerita Prof of Animal and Genetics, Olufunmilayo Ayoka Adebambo, pointed out that policy trust is very important in the agricultural sector and we need to start taking actions as regards to that. She further stated that we have been in silence for a long time concerning the value chain development and now its good we are speaking out.
The Provost Federal College of Education Iwo, Professor Rafiu Ibrahin Adebayo while responding to CEOAFRICA stated that "Studies are carried out for development and as such any research done must be focused and reflect on the society" . He added that the guest speaker, Prof Suleiman Elias Bogoro is very focused and puts to practice what he says,
Prof Obatolu led Management team has made history with the First Annual Lecture which was attended by people from all walks of life, among them are Prof Eyitayo Ogungbenro Ogunbodede - The Vice Chancellor of Obafemi Awolowo University, Prof Veronica Obatolu - The Executive Director, Prof. Israel Adewole - Deputy Former Minister of Health(FGN) and former VC University of Ibadan, Prof. Olufemi Bamiro – Chairman nrf-tetfund and Former VC University of Ibadan, Prof Jesse Abiodun Otegbayo , CMD UCH, Prof. Jimoh Farinde – DEAN Faculty of Agriculture, Obafemi Awolowo University, Ile-Ife, Prof. Adekunle – Immediate past Dean Faculty of Agriculture, Obafemi Awolowo University, Ile-Ife, Prof Oyedele – Former Dean Faculty of Agriculture, Obafemi Awolowo University Ile-Ife, Dr Olaide Saka Deputy Director of IAR&T , Adeboye Popoola – Deputy Registrar of the Institute, Mr Michael Olusegun Fadipe - Deputy Busar of the Institute , Prof Demo Kallah – TBU Bauchi ,Mrs Olufunmilayo Ayoka Adebambo - emeritus Prof. of Animal and Genetics, Prof Bisi Balogun and others .
Back to News