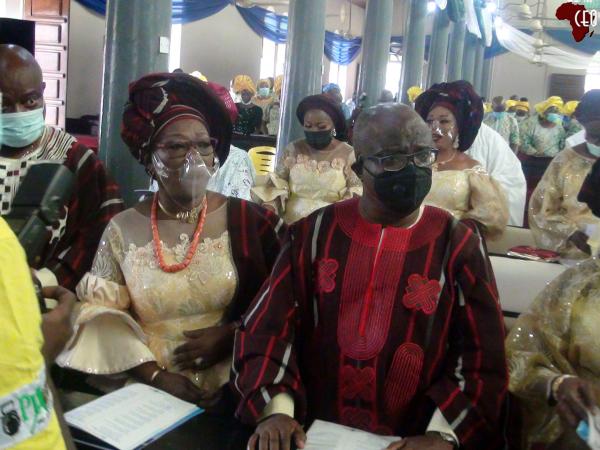 Tributes as Mama Alice, mother of Mind Builders Schools BOT Chairman begins journey to great beyond
From: CEOAFRICA
Mon, 6 Sep 2021 || Nigeria,
MONDAY- 6th September, 2021: Ralph Waldo Emerson once said, "The purpose of life is to be useful, to be compassionate, to have it make some difference that you have lived and lived well." This mirrors the life of Mama Alice Basola Falore (Nee Fakanlu), mother of Chief Bosun Falore, Chairman, Board of Trustees of Mind Builders schools, one of the leading Primary and Secondary schools in Nigeria, based in Lagos, who slept in the lord on Thursday July 22, 2021.
Mama Alice, who died peacefully at the age of 93, was buried on Friday 3rd September, 2021 at Cathedral Cemetery, Saint John, Oke Oye, Ilesa, Osun state.
Mama as the deceased was fondly called, was survived by five children who are successful in their careers, including Chief Bosun Falore, Chairman, Board of Trustees of Mind Builders schools; grandchildren and great grandchildren.
charged every attendee at the burial ceremony to take care of their spirit man by feeding it with the word of God just like Mama Alice.
He said, "The testimonies about mama are very diverse. I am thanking God for the life of mama and her faith in Christ, displayed through her worship in the Cathedral Church of St. John. Mama was very active in church activities. Those of us who knew her can testify to her steadfastness."
"Take care of your spiritual body because the physical body will be buried but the spiritual will last for eternity. Feed the spiritual man by continuous hearing of the word of God."
"The more you feed on the word of God and pray, the more the inner man is strengthened and renewed. When the physical structure eventually collapses, then the fully renewed spiritual man takes over."
In a separate interview with CEOAFRICA, the Children, daughters-in-law, family members, ministers of God, community members Mama Alice Basola Falore as a wonderful, loving, caring, accommodating and disciplinary mother .
Speaking with CEOAFRICA, Mama's son, Chief Bosun Falore described the death of his mother, Mama Alice as a great loss to her children and the family at large.
He said, "It was a great loss to the family, and we; the children. I will miss everything about her. Her love and care, her phone calls.
Bosun advised the rest of the family to always remember to uphold the virtues of mama and all she stood for while she was alive."
Mama's daughter-in-law, Mrs Ronke Falore, while speaking with CEOAFRICA, described Mama as a beautiful soul.
"Mama was a beautiful soul, gentle, loving, and always there to assist others. There was no dull moment with her. You know, she was very accommodating. She was very accommodating. We will definitely miss her," she said.
Mrs Bolanle Falore, daughter-in-law to the deceased while speaking with CEOAFRICA in an interview, said that Mama Alice will always be remembered for good.
She said, "Mama was a mother to the core. Very loving and caring. She will always be remembered for good. Mama always called for unity among all her children and their wives. Her good works can never be forgotten."
In the same vein, Mama's grandchild, Mobolade Olaniran Falore, who also spoke about his grandma in an interview with CEOAFRICA said, "To God be the glory, she lived a wonderful life, full of love. I am very happy that she got to see 93. Grandma was very warm, a wonderful woman. One thing I'll miss about her is her plantain and vegetable soup."
Back to News