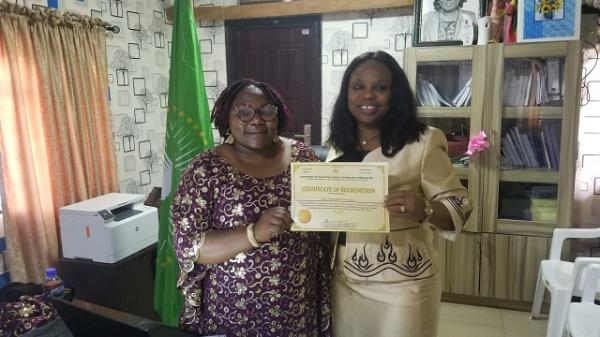 Again, AU awards Chrisland Uni. VC, Prof Babalola's contribution to science and innovation
By: Kelvin Ubaka
Mon, 29 Nov 2021 || Nigeria,
MONDAY- 29th November, 2021: The Department of Education, Science, Technology and Innovation of the African Union Commission has presented a certificate of recognition to the Vice Chancellor of Chrisland University, Prof. Chinedum Peace Babalola.
CEOAFRICA gathered that the certificate was awarded on the 17th November in recognition of her contributions and for facilitating the achievements of the mandates of the African Union in the department of Education, Science, technology and Innovation (ESTI-AUC).
The African Union Commissioner for Education, Science, Technology and Innovation, H.E. Prof. Sarah Anyang Agbor, presented the Certificate and expressed her gratitude on behalf of the commission on the efforts and continuous contribution of the erudite professor to science and drugs discovery in Africa.
Prof. Chinedum Babalola who is a Professor of Pharmacy at the University of Ibadan continues her overhaul of awards, achievements, recognitions and medals as she has received numerous recognitions from different bodies on different discoveries and innovations.
Recall that in 2020, Prof Babalola won AU's Kwame Nkrumah Award for Scientific Excellence and the AU laureate has continued to work on innovative discoveries as she is presently one of the scientists working on Covid 19 Vaccines.
The presentation of the certificate which held at the The Pan African University Institute of Life and Earth Sciences (including Health and Agriculture), PAULESI in the University of Ibadan, also had the presentation of a Certificate to (PAULESI) Director, Prof. Esther Akinlabi.
The (ESTI) department of the African Union Commission seeks to promote research and publication on science and technology, Promote cooperation among member states on education and training, encourage youth participation in the integration of the continent, Implement the Agenda 2063 initiatives for African Virtual and E-University and the Africa Outer Space Strategy.It also works for the Implementation of continental educational polices and strategies such as the Continental Education Strategy for Africa (CESA); the Science, Technology and Innovation Strategy for Africa (STISA), and TVET Continental Strategy; AU School Feeding initiative.
Back to News