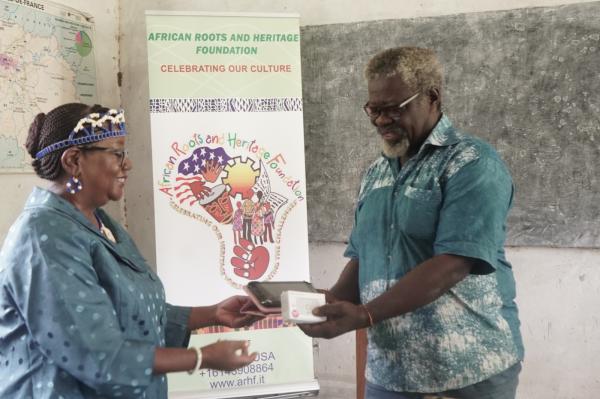 L-R: Executive Director of ARH Foundation, Professor Anita M. Diop presenting empowerment materials Africans
Preserving African Languages: ARHF partners University of Yaounde to launch Anita M. Diop Scholarship of Excellence
By: Cletus Sunday Ilobanafor
Mon, 11 Apr 2022 || Cameroon,
In the bid to help preserve African Languages, the African Roots and Heritage Foundation has collaborated with University of Yaounde 1 to fulfilling the Global Day of Community Service and Conference.
The Global Day of Community Service and Conference is scheduled to hold on April 15th in the Department of African Literature and Civilizations in University of Yaounde 1, Cameroon.
CEOAFRICA reliably obtained in the Press Release signed by the Executive Director, Professor Anita M. Diop, stating that as part of the collaboration, ARHF Foundation(arhf.net) has once again launched the Anita M. Diop Scholarship of Excellence, which entails an essay competition for students with monetary rewards and prizes valued at more than $1000.00.
Amidst the partnership and scholarship launching, the students are expected to explore on the theme: 'Importance of Preserving African Languages at Home and Abroad' in an essay, as the top 5 essayists will be granted the ranking scholarship funds.
Additionally, all the essays are combined into an anthology for publication and distribution in multiple languages. Noting that It is important to record the mind of the youth, who are future leaders concerning this vital development in the African Renaissance for the promotion, retention, and celebration of African Languages.
The African Roots and Heritage Foundation was established in 2006 by Anita M. Diop and Edith Cooper. It is a non-profitable organization designed to share Pan African History and Culture through public programmes and scholarship.
Speaking on the power of African Language when used on a daily basis, the Executive Director said that it strikes a power stance that no other language can substitute. In her words: "Instilling pride, culture, connection, and a sense of well being for the user and the greater community. Submitting your essay to this noble programme de-marks in history your thoughts, ideals, and insight to the thinking of this point and place in time. This is the capstone to this event – encourages students to take up the mantel and stand for African Languages in all spaces with pride," she encouraged.
Back to News