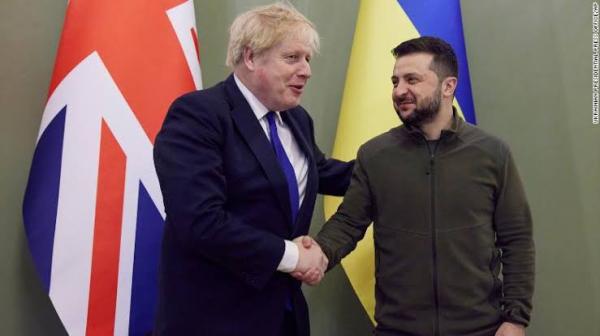 "He is an ally and I'm happy he's still Prime Minister" - Ukraine's Zelensky celebrates Boris Johnson's impeachment survival
By: Cletus Sunday Ilobanafor
Tue, 7 Jun 2022 || Nigeria,
Ukrainian President, Volodymyr Zelensky has expressed his happiness over UK Prime Minister Boris Johnson's survival of an impeachment attempt.
On Monday, June 6, Johnson won a confidence vote despite a major revolt that saw 148 of his own Tory MPs vote to remove him.
Johnson has forged a close relationship with President Zelensky since Russia's invasion of Ukraine.
The UK was among the first to provide weapons to support Ukraine's defence and - like its Western allies - has imposed sweeping sanctions on the Russian government and oligarchs.
In April, Mr Johnson pledged "unwavering support" on a visit to the capital Kyiv, where he did an unannounced walkabout of the city with President Zelensky.
On Tuesday, Zelensky reacting to Johnson's impeachment survival said;
"I'm glad we haven't lost an important ally, this is great news," Zelensky said at an online event.
He called Mr Johnson a "true friend of Ukraine" and a "concrete" supporter in an interview at a virtual conference hosted by the Financial Times on Tuesday.
The UK's military support to Ukraine amounts to £750m so far and includes thousands of anti-tank missiles, 20 armoured vehicles, 4.5 tonnes of plastic explosives, and electronic warfare kit.
On top of this, the UK says it is providing £220m of humanitarian assistance to Ukraine.
Back to News