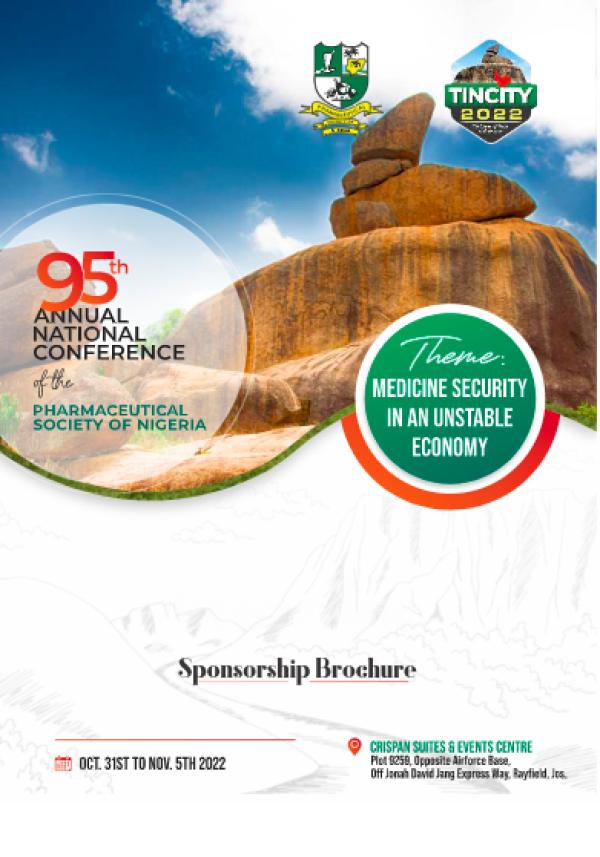 10 things you must know about the PSN's Tin City 2022
By: Abara Blessing Oluchi
Wed, 12 Oct 2022 || Nigeria,
Just 18 days to the Annual National Conference (ANC) of the Pharmaceutical Society of Nigeria (PSN), tagged "Tin City 2022".
With the theme, "Medicine Security in an Unstable Economy", the event is scheduled for October 31 to November 5, 2022, at Chrispan Suites and Events Centre, Rayfield, Jos, Plateau state.
CEOAFRICA has brought to you some of the important facts about the event. These include:
1. Delegates will be involved in many sporting events on Thursday, November 3, 2022.
2. The conference accords the participants the opportunity of visiting many exciting places in Jos, including Jos Museum, Jos Wild Life Park, Shere Hills, Rayfield Holiday Resort, Naraguta Leather Works, Solomon Lar Amusement Park, Jos Zoo, among others.
3. The conference marks 95 years of the PSN's existence.
4. The National Drug Law Enforcement Agency (NDLEA) Chairman, Brig. Gen. Buba Marwa (Rtd), OFR, will be in attendance, speaking on the subtheme, "Stemming the Misuse and Abuse of Essential Medicines in a Depressed Economy".
5. Former Head of State, Federal Republic of Nigeria, Gen. Yakubu Gowon (Rtd), GCFR, is the chairman of the opening ceremony.
6. The keynote speaker, a pharmacist, an erudite scholar and a national merit award winner, Dr. Obi Peter Adigwe, NPOM, who is also the DG/CEO of the National Institute of Pharmaceutical Research and Development (NIPRD), is an alumnus of the prestigious University of Jos.
7. It is the pharmaceutical sector's biggest, largest and most anticipated conference, both for those practicing and those in the academia.
8. Regular registration has ended on September 30, registration after the said date attracts additional payment.
9. National Pharmacists' Golf Championship Kitty will be held before the main conference on 31st October.
10. Those who want to participate in the golf championship need to arrive the tin city on or before 30th; for more information, contact 0803 074 9595.
For pre-booking of the tourism events and other pieces of information, contact the Local Organising Committee, via call or Whatsapp, on 0817 092 5112 or 0806 950 4483.
Back to News