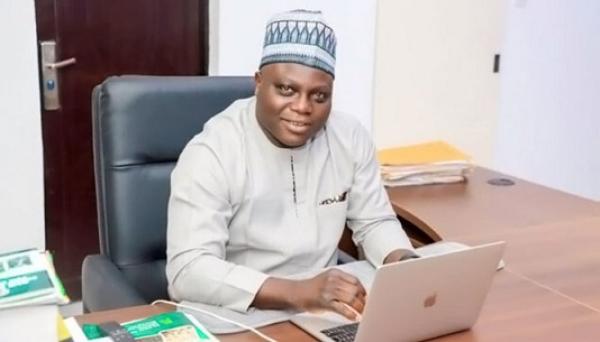 CRIN: Dr Patrick Adebola bags WIP award
By: News Editor
Thu, 10 Nov 2022 || Nigeria, Ibadan, Oyo State
The Executive Director, Cocoa Research Institute of Nigeria (CRIN), Dr Patrick Adebola, has been honoured again with an award from the World Institute of Peace (WIP) during her panel discussion on "World Peace is Possible: Picture the Future of Progress", tagged "Oyo Nigeria 2022", held in Ibadan yesterday, Tuesday, November 8.
The event, which featured lectures, panel discussion, induction of fellows and award presentations was held at Prof. Opeke Conference Hall of the CRIN, Ibadan.
In his address to open the event, Dr Adebola, stated that hosting such a global peace event was an honour to him and the entire CRIN, noting that as an ambassador of peace, his administration has restored peace to the institute which had been in chaos for decades prior to his appointment.
The special guest of honour at the event and Executive Chairman, WIP, Chief Lamina Kamiludeen Omotoyosi, who thanked Dr Adebola for hosting the WIP stated some of the achievements of the institute, which according to him, is now in over 60 countries across the globe and offers free courses and trainings virtually.
Dr Pikren, who spoke virtually from New Jersey in the United States of America highlighted the importance of peace, charging everyone to see allegiance to peace as an obligation.
Dr Patrick Domayoru, who also spoke from the USA, virtually, admonished all to be at peace with oneself and to see humanity beyond the boundaries of ethnicity, race, religion, sex and other sociocultural constructs that divide it.
Amb. Obafemi Adelowo Adunni, who came from Cote d'Ivoire, advised that the best way to ensuring peace is by avoiding revenge and being mindful of the "law of cause and effect".
The guest speaker, Amb. Dr Olatunji Sheriff Olamide, from the University of Ibadan, echoed that there is need for everyone to be mindful of how one interacts with others irrespective of their statuses, while noting that the society is now more turbulent than before.
Three fellows were inducted including former Commissioner of Police in Oyo state, Rtd C.P. (Apostle) Funmilayo Akinfenwa (PhD), former State Director, National Orientation Agency (NOA), Oyo state, Chief (Mrs) Dolapo Dosunmu and General Secretary, Senior Staff Association of Universities Teaching Hospitals, Research Institutes and Allied Institutions (SAUTHRIAI), Rev'd (Dr) Ezekiel Popoola.
In addition to Dr Patrick Adebola, two others were recipients of the merit award including Director General, Forestry Research Institute of Nigeria (FRIN) Prof. Adeshola Adepoju and the immediate past Board Chairman of the CRIN, Alhaji Abdullahi Jao.
Traditional rulers were also at the event including the Community Head, Chief Emmanuel Bello Bamgbose and Regent Opemileran from Ado-Ekiti, who described Dr Adebola as a historic director of CRIN.
In an interview with CEOAFRICA, after the award presentation, Dr Patrick Adebola stressed that where there is no peace, development would be lacking.
According to him, "We had to set up committees immediately to settle the disputes. And today everyone is happy, unlike what was obtained in the past."
Speaking on the sustenance of the peace after his tenure, he noted that his administration, which will end in October 2025, has been able to carry everyone along to ensure that the peace is a collective effort such that even the younger ones can continue from where the older ones stopped.
Other personalities at the occasion include Chairman, Academic Staff Union of Research Institutes (ASURI), Dr Kayode Ayegboyin, Commander, Oyo WAI Brigade, Olawale Adebayor, Director of the DSS and the DPO of the Nigerian Police Force in Ibadan.
Others include Chairman, Contributory Pension Union of Nigeria, Chief J.B. Idowu, Chairman of the Non-Academic Staff Union, Mrs Kuforiji, different youths' and securities' groups, among others.
Back to News