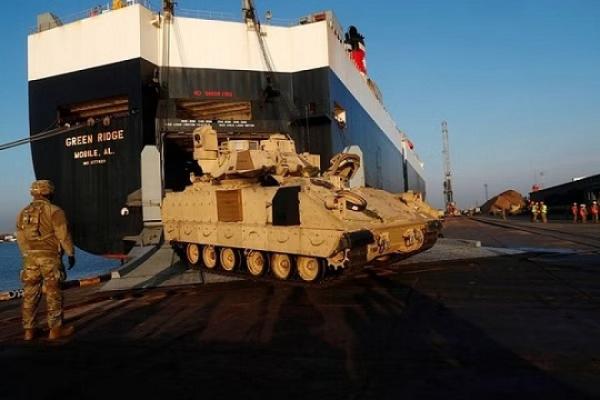 Ukraine to get more armoured vehicles but presses for tanks to fight Russia
From: Agency Report
Thu, 5 Jan 2023 || Nigeria,
Western allies moved toward supplying armoured battle vehicles to Ukraine but not the heavier tanks it has requested to fight Russia, while Washington predicted intense combat would continue for months on the eastern frontline, Reuters reports.
French President Emmanuel Macron told Ukrainian President Volodymyr Zelensky his government would send light AMX-10 RC armoured combat vehicles to help its war effort, a French official said on Wednesday after a phone call between them.
While the official said these would be the first Western armoured vehicles delivered to Ukraine, Australia said in October that it had given Kyiv 90 of its Bushmaster Protected Mobility Vehicles, an armoured unit that is hardened against landmines, small arms fire and other threats.
US President Joe Biden said later on Wednesday that Washington was considering sending Bradley Fighting Vehicles to Ukraine, which since Russia's invasion in February has been fighting Europe's biggest land conflict since 1945. Cities have been destroyed, millions of people displaced and tens of thousands killed.
The Bradley armoured vehicle, which has a powerful gun, has been a US Army staple to carry troops around battlefields since the mid-1980s. The US Army has thousands of Bradleys, and they would give Ukraine more firepower on the battlefield and strengthen its ability in trench warfare.
Biden's move, however, would fall short of sending the Abrams tanks that Ukraine has sought. Kyiv has repeatedly asked Western allies for heavier fighting vehicles such as the Abrams and German-made Leopard tanks.
In an evening video address, Zelensky thanked Macron for the announcement and said it showed the need for other allies to provide heavier weapons.
"This is something that sends a clear signal to all our partners. There is no rational reason why Ukraine has not yet been supplied with Western tanks," he said.
FIGHTING IN EAST
A senior US administration official on Wednesday gave a sobering assessment of fighting in Ukraine's eastern Donetsk region, especially around the largely ruined, Ukrainian-held city of Bakhmut. Fierce combat is likely to persist for the foreseeable future, although Russian forces have made incremental progress, the official said.
"The fighting is still quite hot ... I think what we're seeing in Bakhmut we should expect to see elsewhere along the front that there will be continued fighting in the coming months."
In his video address, Zelensky said Ukrainian troops outside Bakhmut were inflicting numerous losses on the Russians and said Moscow was building up its forces in the region.
Reuters could not independently verify battlefield accounts.
RUSSIA SENDS FRIGATE
Zelensky last month told the US Congress that the tens of billions of dollars of US aid to help it combat Russia's invasion was not charity, but an investment in global security.
The United States is preparing another weapons aid package which could be announced in the coming days on top of about $21.3 billion in security assistance so far to Ukraine.
The United States has increased the capability of the weapons it has sent including shoulder-fired Stinger anti-aircraft missiles as well as Javelin anti-tank missiles, the HIMARS rocket system and NASAMS surface-to-air missiles.
During Zelensky's visit to Washington, the United States pledged to send the sophisticated Patriot missile system to repel Russian missile and drone attacks.
An official from the Ukrainian defence ministry's intelligence section, Andriy Cherniak, said in comments to the RBC-Ukraine media outlet that Kyiv expected no let-up in Russia's offensive this year despite the heavy human toll.
"According to Ukrainian military intelligence estimates, in the next four-five months the Russian army may lose up to 70,000 people. And the occupying country's (Russia's) leadership is ready for such losses," Cherniak said.
Russian leaders "understand they will lose but they do not plan to end the war", he said.
In a signal to the West that Russia will not back down over Ukraine, Russian President Vladimir Putin sent a frigate on Wednesday to the Atlantic Ocean armed with new generation hypersonic cruise missiles, which can travel at more than five times the speed of sound.
Ukraine said Russia had launched seven missile strikes, 18 air strikes and more than 85 attacks from multiple-launch rocket systems in the past 24 hours on civilian infrastructure in the cities of Kramatorsk, Zaporizhzhia and Kherson.
Russia denies deliberately attacking civilians.
Ukrainian Deputy Defence Minister Hanna Malyar said Russia would continue to form additional assault units and focus on the capture of Bakhmut and other cities to the north of Donetsk.
Malyar, citing the ministry's main intelligence directorate, wrote on the Telegram messaging app that significant Russian losses meant Moscow would most likely have to announce a second partial mobilisation in the first quarter of the year.
Russia launched what it calls a "special military operation" in Ukraine on Feb 24, citing threats to its own security and a need to protect Russian speakers. Ukraine and its allies accuse Russia of an unprovoked war to seize territory.
Back to News