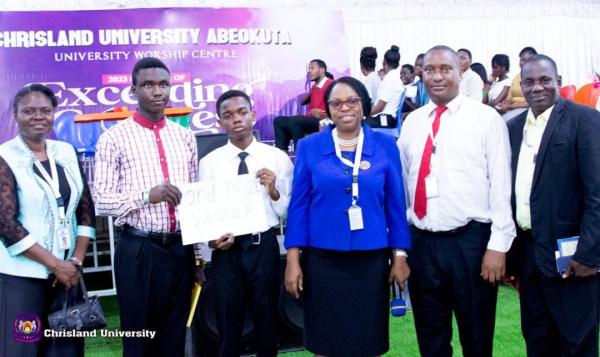 Department of Medical Laboratory Science Emerges Overall Winner in 3rd Edition of Chrisland Spelling Bee Competition
From: CEOAFRICA
Mon, 13 Feb 2023 || Nigeria,
The Department of Medical Laboratory Science has emerged as the overall winner of the 3rd Edition of the Chrisland University's Spelling Bee Competition out of the 16 participating Department.
The College of Law emerged second while Departments of Computer Science and Political Science tied on the 3rd position.
The event which took place at the University Auditorium on Wednesday, 8th February, 2023 was organized by organized by the Department of English as part of their SMART goals.
The contestants in the competition were required to spell any given word within 30minutes to earn full marks, write any sentence containing a minimum of six words on a paper within 20minutes to earn marks, and to make a declamation of favorite and famous public speakers, and they were judged based on clear presentation, effective articulation, pronunciation (pause, volume, pitch of voice), facial expressions, gestures, eye contact and bodily movement.
The goal of the declamation was to help students develop the linguistic competence needed for communicative intelligibility.
In opening address, the Head of Department, English, Dr. Olubimpe Adekunle reiterated that the spelling bee competition idea was borne out of experience and discovery that students do not have the confidence to speak in class, whether to ask questions or give concise and precise answers to questions when asked.
She commended the Vice-Chancellor for her interest in sustaining this vision geared towards ensuring oratorical prolificacy among Staff and Students of Chrisland University, which is expedient for building a total man for a healthy society and nation.
In her remark, the Vice-Chancellor, Prof. Babalola underscored that competitions boost aspirations, adding that competition happens in all stages of life, including when one is seeking employment, promotion amongst others.
She lauded the contestants for an excellent performance, noting that the maiden and second editions of the competition that was held in 2022 gave them some improvement grammatically and structurally.
Prof. Babalola however promised that all departments including contestants who participated in the competition would be rewarded accordingly.
It would be recalled that the maiden and second editions of the spelling bee competition were held in 2022 where Departments of English and Biochemistry bagged first position respectively.
Back to News