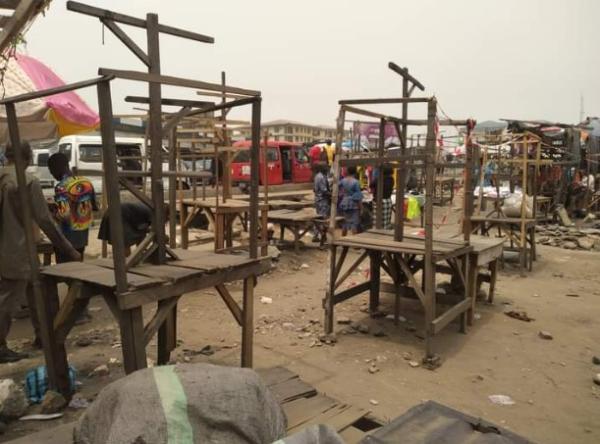 New naira: Rivers hoodlums hijack protest, rob residents, five arrested
From: Agency Report
Fri, 17 Feb 2023 || Nigeria,
Some residents of Port Harcourt on Friday protested the Central Bank of Nigeria's naira redesign policy and the introduction of new naira notes.
As the protest went on, hoodlums exploited the protest and invaded shops in Ikoku, a popular spare parts market and the Mile 3 markets and Emenike axis of the metropolis, forcing traders to accept the old N500 and N1000 notes as legal tender.
The hoodlums threatened to destroy their goods if they continue to refuse the old naira bills.
An eyewitness told our correspondent that traders and shop owners at the Ikoku and the Mile 3 markets hurriedly closed for the day and scampered for safety.
An eyewitness who pleaded anonymity said, "They (hoodlums) are insisting that traders and other people must take the old naira. That is the N500 and N1000 notes.
"They said if not everybody should close. As it stands now people have closed their shops. Those who refused to close down their shops, their property and goods got destroyed.
"Another thing is before you know it now they will say it is the Igbo boys in Ikoku doing business that are causing the riot.
"These are hoodlums burning tires and destroying people's goods and properties.
"I wonder why people will be forced to accept old naira notes. It is their businesses, government didn't open these shops and businesses for people."
Meanwhile, the situation later spread to Emenike and Okika streets in the Mile 1 axis of Port Harcourt.
Meanwhile, armed policemen, patrol vehicles and an Armoured Personnel Carrier later arrived at the scene and were stationed at the Popular Ikoku junction, Mile 3 axis of Ikwerre Road to contain the situation.
A resident said he was at home when his wife called him from Ikoku that people were running after violence erupted in the area.
He said, "Boys were chasing people. But I don't know who they are. Bus drivers and private vehicles too were running helter-skelter.
"When I went out, I saw burn fires at Ikoku roundabout near the new Flyover. Some security men attached to the Anglican Church were trying to put out the fire because there was a burial in the area.
"Those boys were looting people. Many people fell victim. They were robbing people and collecting their mobile telephones.
"They are protesting because of this money issue and shouting you say Deygbam (a cult group) is not here."
A victim identified as Miss Favour Harcourt who was robbed narrated her ordeal during the rampage.
"A group of boys came to our driver when he was trying to reverse at Ikoku Junction, they swooped on him, broke his windscreen, and started beating him up.
"While alighting from the vehicle, one the guys (hoodlums) held me and stabbed me in the hand, dragged my phone and my wallet and ran.
"As he was going the Diobu Vigilante caught him and recovered my phone, they arrested him," she said.
When contacted, the spokesperson of the State Police Command, Grace Iringe-Koko, confirmed the disturbances, saying five persons have been arrested.
Iringe-Koko said, "You know we anticipated this problem because of what has been happening in other parts of the country.
"So, immediately we received a distressed call this morning, the Commissioner of Police deployed all tactical units and anti-riot policemen.
"At the Ikoku, Emenike, and Mile 3 areas now, there are several patrol vans stationed there. We have arrested about five persons. Normalcy has returned to these areas as we speak," she stated.
Also, the Chief Security Officer of Nkpolu Oroworukwo Mile 3 Diobu attached to the Diobu Vigilante, Godstime Ihunwo, confirmed the arrest of one hoodlum.
Ihunwo stated, "At about 8:30 to 9am on Friday 17, February 2023 we received a distress call concerning a rampage by hoodlums along IKwerre Road.
"We swung into action and intercepted one Saviour who claims to be a member of a security watch.
"He robbed one Miss Favour Harcourt at Ikoku junction of her android phone and wallet. But our men have recovered the items," he said.
Back to News