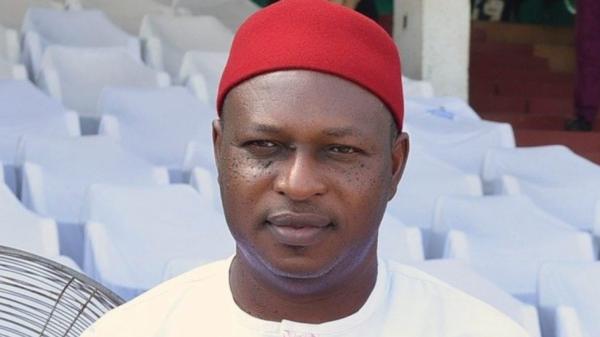 Enugu guber: Edeoga carpets INEC, vows to reclaim alleged stolen mandate
By: Cletus Sunday Ilobanafor
Thu, 23 Mar 2023 || Nigeria,
The Labour Party, LP, governorship candidate in last Saturday's election in Enugu State, Barr. Chijioke Edeoga has vowed to retrieve his mandate which he said was allegedly stolen by the Peoples Democratic Party, PDP.
Edeoga, who spoke after Barr. Peter Mbah of the PDP was announced winner of the election, said he was robbed of victory, describing it as "electoral mess".
CEOAFRICA recalls that after days of anxiety in Enugu, Mbah was on Wednesday night declared Enugu governor-elect by the Returning Officer, Prof. Maduebibisi Iwe.
He said Mbah polled 160, 895 votes to beat Edeoga who garnered 157, 552. Frank Nweke of the All Progressive Grand Alliance, APGA, came third with 17, 983 votes.
Reacting, the LP candidate urged his supporters to remain calm as he pursues the course of justice through legal means.
His full remarks below:
"I want to thank the good people of Enugu State who were involved in this political process to see that the will of our people is determined electorally. The will of our people was made manifest in the few elections that have happened.
First of all, the National Assembly elections where the Labour Party recorded 7 out of 8 wins. So, right now, we have 7 out of 8 House of Representatives seats; the Senate, we have two out of three now; the third one we are in court and we are certain that we are going to get it, because the rigging that gave the PDP victory was manifest. Out of 24 members of the House of Assembly, Labour now has 14, with more to be added when a few shenanigans that were introduced by the INEC electoral officers are resolved. So, electorally, Enugu State has become a Labour Party State. It is a thing of joy and I thank the good people of Enugu State for giving the Labour Party this resounding victory.
Of course, it flows from what I just said above that the outcome of the governorship election as announced by the INEC after three or four days of delay does not flow along with what I have just enumerated; the victories of the Labour Party in the other elections. The outcome of the guber election, which was handed over to the PDP, with a margin of 3000 votes is not consistent with the electoral victories that were recorded by the Labour Party.
One can say clearly that this outcome is not in consonance with the wishes and aspirations of the people of Enugu State, their democratic intentions. It is a matter that the people are not happy about; it is a matter that has raised disquiet in Enugu State because it is a clear abortion of their democratic intentions and people have become worried and agitated; tempers are rising but we have done everything possible, we have called our leaders to remain calm and resolute. We are certain that this electoral mess which was orchestrated by a few persons within INEC, both in Enugu and Abuja, will be addressed. We have resolved as a party, as a people, to follow the due process of law to retrieve the mandate. Enugu people have expressed their disquiet.
We are going to explore all options that are available, we are not going to rule anything out in the legal process. The result as announced by INEC is not in consonance with the votes cast; we have multiple evidences of clear illegalities that are not in line with the electoral laws. We have several cases of over-voting, we have several cases of ballot box snatching, we have several places where people bypassed the BVAS, where people who were said to have voted or votes ascribed to people were higher than what was captured by the BVAS as accredited voters.
The election did not meet the standard expected; it was marred by brigandage, it was almost like warfare; ballot boxes were snatched, changing of figures, kidnapping and imprisonment of electoral officers, in Udenu and Nkanu East, fake security officers with tags and uniforms procured for them with government vehicles. Local government chairmen spearheaded this heist that occurred in Enugu State and it is not acceptable.
We want to urge our people in Enugu State to remain calm and peaceful, prayerful. Keep faith in God knowing that truth, justice shall prevail.
The Returning Officer finally displayed Pontius Pilate's kind of attitude by saying the result was given to him, that he was declaring it because he was a man under authority. It is a clever way of washing his good hands out of what he was being forced to announce. Pontius Pilate did it. So, Prof. Maduebibisi Iwe, who is the leader of the Scripture Union Nigeria, every situation produces a hero, to an extent he is a hero, but he could have gone further; he should have gone further. If he were forced to announce something that was not in consonance with his belief, he should have opted out, maybe his courage failed him but at least he tried. This their 'go to court, go to court', which has become the mantra of electoral robbers in Nigeria, would have happened two days earlier if not for him, though it eventually happened. His firmness, especially against the declaration of the REC, it was obvious on television that he (REC) was a hatchet man, hired to take certain acts. You saw him trying to shout down the Returning Officer.
Going forward, we must find a way of weeding off such persons from the system. There is a need for some kind of review, to find those who should be appreciated and those who should be reprimanded. How can people in Abuja, Festus Okoye and co, sit down, remove figures, add figures and then come to a conclusion which is not in consonance with the electoral law?
How can a situation that is the same with Abia, you arrive at a different situation in Abia and a different situation in Enugu. Abia and Enugu were exactly the same thing; Obingwa where votes were inflated and you agreed that these votes should be cancelled and Alex Otti declared winner; same thing in Nkanu East in Enugu, but you now begin to subtract marks; on what basis are you subtracting those marks? The law says you should cancel. But you begin to subtract and add with an end in mind, that you must give victory to PDP. You were working towards an answer, it was obvious.
So, Festus Okoye, who used to be an activist has not conducted himself very well in this matter. We know that it did not end with himself and one Ken, they pushed it further. They all agreed on what to do, to subvert the wishes of the people of Enugu State but we will get justice."
Back to News