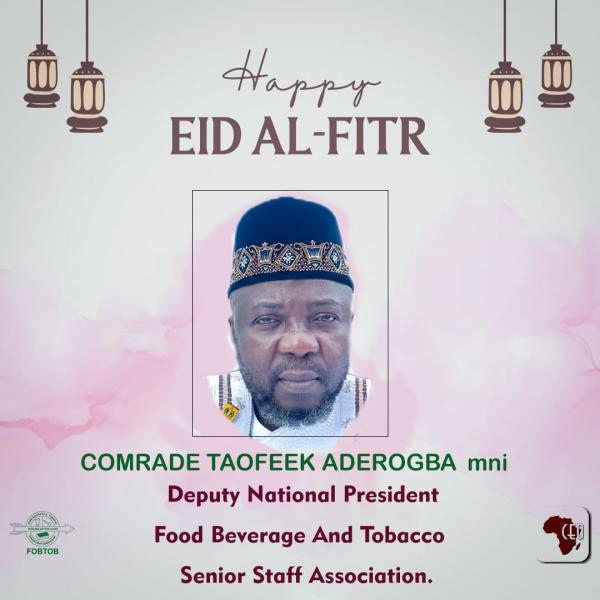 FOBTOB Deputy National President congratulates Muslims, enjoins them to continue observing the teaching of Ramadan
By: Cletus Sunday Ilobanafor
Sat, 22 Apr 2023 || Nigeria,
The Deputy National President of Food, Beverage and Tobacco Senior Staff Association of Nigeria, (FOBTOB), an affiliate of Trade Union Congress of Nigeria (TUC), Comrade Adebayo Aderogba mni, has urged Muslims to continue observing the teachings of Ramadan.
The Ibadan-born unionist said this on Friday while addressing journalists shortly after the Eid ul-Fitr prayer at the Nasfat praying ground in Kano, Kano state.
According to Comrade Aderogba, mni, the simple lesson for Muslims is to keep emulating the spirit of Ramadan, which is love, endurance, peace, and justice.
'I express my gratitude to Almighty Allah for bringing the Ramadan fasting to an end in peace all over the world, in Nigeria, and all for FOBTOB members in particular.'
The FOBTOB Deputy National President asserts that everyone would live in peace and harmony if we could adopt the values found in the Prophet Muhammad's teachings. 'If we can all imbibe these virtues that our prophet Muhammad (SAW) taught us, I enjoin and encourage us to do so, that is the whole essence of coming to give glory to almighty Allah.
I urge my fellow Muslims not to stop doing good at any time, especially now that Ramadan is over, I further charged you all to focus even more on charity than you have done in the past.
The priority of any government is the provision of good governance to the people, I tasked the good people of Nigeria and Oyo state to continue supporting and encouraging both the National and State's government respectively through giving them your unflinching support and cooperation.
Nigeria belong to all of us, and let's all put our hands on deck to make it a great nation of our dreams. A new Nigeria of our dream and pride is possible.'
Back to News