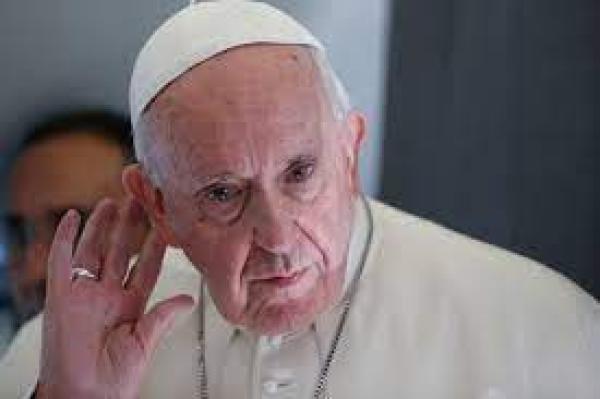 Pope to undergo hernia operation today
By: Abara Blessing Oluchi
Wed, 7 Jun 2023 || Nigeria,
Pope Francis will undergo an operation for an abdominal hernia on Wednesday at a Rome hospital, where he is expected to stay for "several days", the Vatican said.
The 86-year-old pope, who underwent colon surgery in 2021, is suffering from a hernia which is "causing recurrent, painful and worsening" symptoms, Vatican spokesman Matteo Bruni said in a statement.
It followed a brief visit by the pope to the Gemelli hospital in Rome on Tuesday, during which the Vatican said he underwent "clinical tests".
Francis led his weekly general audience as usual Wednesday, before preparing to head to the Gemelli.
"In the early afternoon he will undergo a laparotomy and abdominal wall surgery… under general anaesthesia," Bruni said.
A laparotomy is a surgical incision into the abdominal cavity.
"The stay at the health facility will last several days to allow the normal post-operative course and full functional recovery," the Vatican said.
Francis, who has been the leader of the world's 1.3 billion Catholics for a decade, has suffered increasing health issues over the past year.
In July 2021 he underwent surgery at Gemelli for a type of diverticulitis, an inflammation of pockets that develop in the lining of the intestine.
He was discharged after 10 days.
Francis was also hospitalised for three nights at the end of March with bronchitis, which was cured with antibiotics.
He also has persistent pain in his right knee as well as sciatica.
– Concern –
The pope's hospital stays have always sparked concern and fuelled speculation over his future.Francis' predecessor, Benedict XVI, who died in December, quit in 2013 due to failing health.
For about a year, the pope has had to rely on a wheelchair due to the recurring knee pain he has said cannot be treated through surgery.
Asked about his health in an interview with US Spanish-language network Telemundo broadcast in May, Francis said it was "much better".
"I can walk now. My knee has been mending. I could hardly walk beforehand. Now I can. Some days are more painful than others," the pope said.
Francis added that doctors had caught his bronchitis infection just in time.
"If we'd waited a few more hours, it would've been much more serious. But I was out (of hospital) in four days," he said.
Despite his health issues, Francis continues to travel widely.
But the pope acknowledged in July 2022 that he needed to slow down.
"At my age and with this limitation, I have to save myself a little bit to be able to serve the Church," he said then.
"Or, alternatively, to think about the possibility of stepping aside."
In March, however, he insisted that he had no current plans to quit.
Benedict XVI, who died on December 31 aged 95, surprised the world in 2013 when he announced he was stepping down, a radical move not taken by a pope since the Middle Ages.
Back to News