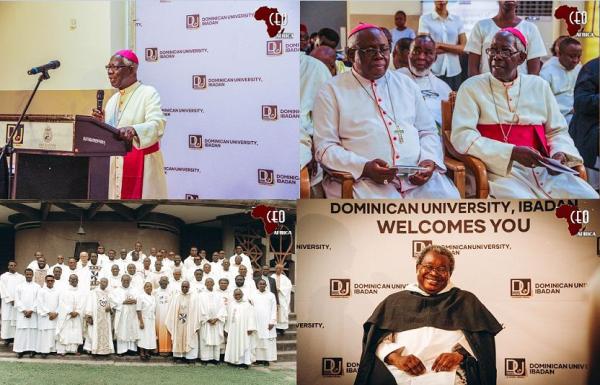 Photo Speaks: Rev Fr Prof Akinwale receives Magister in Sacra Theologia
By: Abara Blessing Oluchi
Fri, 9 Jun 2023 || Nigeria,
The pioneer Vice Chancellor of Dominican University, Rev Fr. Prof. Anthony Alaba Akinwale, OP, STM received the Magister in Sacra Thologia (STM) which is the highest academic honour in the Dominican Order of Preachers.
The Professor of Systematic Theology and Thomistic Studies in his first Magistral Lecture during his confinement with the academic title of Magister in Sacra Theologia by the Master of the Order of Preachers which took place at the Dominican University in Ibadan. He stated that "Military rule paralyzed developmental initiatives in a country that ought to be on a fast track to development," .
The erudite Professor further said "Every institution in the land got a hit." According to Rev. Father Alaba, the Dominican Institute, from which the Dominican University originated, granted him the unique opportunity to cultivate and instruct an undergraduate course called "Explorations in Christian Theology" for twenty-one years. This course revolved around two fundamental inquiries, thus shaping its content and structure.
He added that "Upon completion of my doctoral studies and my return to Nigeria in 1996, my participation at the annual conferences of the Catholic Theological Association of Nigeria (CATHAN), an association he had the privilege of serving as the president from 2001-2004, further heightened my preoccupation with these two questions."
"I returned to Nigeria at a time our beloved country was mercilessly afflicted with and heartlessly assaulted by an extremely harsh and outstandingly pestilential military dictatorship, the worst of its kind, in an already debilitating and traumatizing history of two bouts of military rule in Nigeria."
His Grace, Most Rev. Gabriel Abegunrin, the Archbishop of the Archdiocese of Ibadan, His Grace, Most Rev. Dr. Felix Alaba Job, Emeritus Archbishop of the Archdiocese of Ibadan, were present at the magistral lecture and conferment of academic title.
Also in attendance were His Lordship, Most Rev. Dr. Emmanuel Badejo, the Bishop of the Diocese of Oyo, and His Lordship, Most Rev. Dr. Ayo-Maria Atoyebi OP, the Bishop of the Diocese of Ilorin, the VC of Dominican University, VC of Augustine University, Sir. Prof Ibi Ajayi and other prominent scholars and stakeholders across the world.
See photos below: