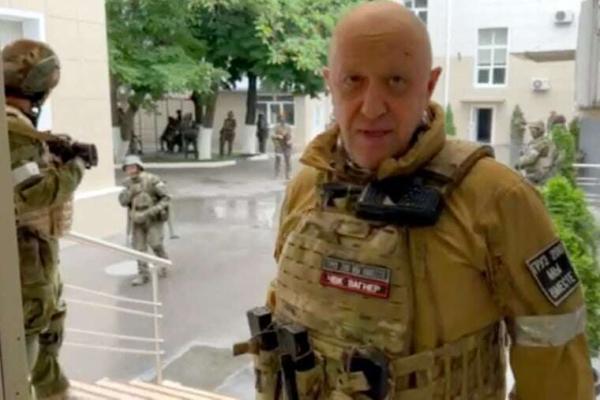 Wagner mercenary group declares war on Russian army, reportedly seizes control of key military HQ in Russia
By: Cletus Sunday Ilobanafor
Sat, 24 Jun 2023 || Nigeria,
The head of the Wagner mercenary group on Saturday said he had crossed into Russia and seized control of a key military headquarters, vowing to topple Moscow's military leadership and saying he and his 25,000 fighters were "ready to die".
Yevgeny Prigozhin, 62, said his forces, who have spearheaded much of Russia's offensive in Ukraine, had entered the southern Russian city of Rostov-on-Don and controlled its military sites.
"We are inside the (army) headquarters, it is 7:30 am (0430 GMT)," Prigozhin said in a video on Telegram.
"Military sites in Rostov, including an aerodrome, are under control," he added.
Russia's military headquarters in Rostov-on-Don are a key logistical base for its offensive in Ukraine.
Prigozhin said planes taking part in the Ukraine offensive "are leaving as normal" from the airfield, and called on Russians not to believe what they were being told on state television.
"A huge amount of territory is lost. Soldiers have been killed three, four times more than it says in documents shown to the top (leadership)."
Videos and pictures posted online, including by the TASS state-run news agency, showed armed men surrounding administrative buildings in Rostov and tanks deployed in the city centre. It was not clear who the armed men were.
President Vladimir Putin was due to make a televised address on Saturday, Kremlin spokesman Dmitry Peskov told Russian news agencies.
Russian authorities earlier said security had been tightened in several regions, and the mayor of Moscow announced that "anti-terrorist" measures were being taken in the capital and its environs.
The FSB security service accused Prigozhin of attempting to launch a "civil conflict" and urged Wagner fighters to detain him.
Russia's defence ministry appealed to Wagner fighters to "show reason" and abandon Prigozhin, saying it would "guarantee the safety" of those who did so.
Prigozhin launched the most audacious challenge to Putin since the start of the offensive in Ukraine last year after accusing the Russian top brass of launching strikes against his men.
"We are dying for the Russian people," he said. "All of us are ready to die. All 25,000, and then another 25,000," he said in the earlier audio message.
"We will destroy everything that stands in our way," Prigozhin said, claiming that his forces had shot down a Russian military helicopter.
In Moscow, critical facilities were "under reinforced protection", TASS reported, citing a law enforcement source.
Prosecutor General Igor Krasnov had informed Putin of "the initiation of a criminal case in connection with an attempt to organise an armed rebellion", Kremlin spokesman Peskov said.
The extraordinary developments came after Prigozhin accused Moscow of targeting his forces with missile strikes that he said killed "a huge number of our fighters".
"The council of commanders of PMC Wagner has made a decision — the evil that the military leadership of the country brings must be stopped," he said in a series of furious audio messages released by his spokespeople.
He warned Russians against resisting his forces and called on them to join him.
"We need to put an end to this mess," he said, adding, "this is not a military coup, but a march of justice."
"We need to put an end to this mess," he said, adding, "this is not a military coup, but a march of justice."
Anti-Kremlin figure Mikhail Khodorkovsky, however, urged Russians to support Prigozhin, saying it was acceptable to back "even the devil" in taking on the Kremlin.
Washington-based think tank the Institute for the Study of War said the Wagner chief's attempt to force a leadership change in the defence ministry "is unlikely to succeed" given that Surovikin had denounced his call for rebellion.
However, it said Wagner's attempts to take control of Rostov-on-Don, a key logistical base for Russia's offensive in Ukraine, "would have significant impacts on Russia's war effort in Ukraine".
Kyiv's defence ministry said it was monitoring the situation while Mykhailo Podolyak, a senior aide to Ukraine's president, said on Twitter that "everything is just beginning in Russia".
Ukraine was also on high alert after a fresh barrage of Russian missiles Saturday, with casualties and damage reported in Kyiv and the central city of Dnipro.
US President Joe Biden was briefed on the situation in Russia and Washington "will be consulting with allies and partners on these developments", National Security Council spokesman Adam Hodge said.
On Friday, Prigozhin said Moscow's forces were retreating in Ukraine's east and south following the start of Kyiv's counteroffensive early this month. That directly contradicted Putin's account that Ukraine was suffering "catastrophic" losses and that there was a lull in fighting.
After years of operating in the shadows, Prigozhin eventually admitted to running the elusive mercenary group Wagner and even interfering in US elections.
His forces, bolstered by tens of thousands of prison recruits, played a central role in Russia's capture of Bakhmut in the longest and bloodiest battle of the conflict.
However, this week he accused Moscow's top brass of deceiving Russians about the offensive in Ukraine.
"Why did the special military operation begin?" he said. "The war was needed for the self-promotion of a bunch of bastards."
Back to News