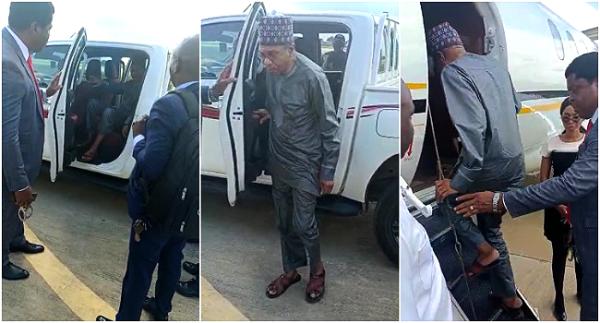 Emefiele is legally detained - DSS
By: Abara Blessing Oluchi
Tue, 8 Aug 2023 || Nigeria,
The Department of State Services (DSS) has countered claim of illegally detaining suspended Governor of the Central Bank of Nigeria, Godwin Emefiele.
The DSS, whose application to legally detain Emefiele for 14 days was struck out on July 27 by Justice Edward Okpe of a federal high court in Abuja, has said that it immediately got a detention order from a magistrate court after the July 27 court case.
Peter Afunanya, DSS spokesperson who claimed that they've always obeyed court orders, said the findings from the preliminary investigation are "quite shocking".
Afunanya said; "Emefiele was arraigned before Justice Nicholas Oweibo of the federal high court, Ikoyi, Lagos, on 25th July 2023 for illegal possession of arms and ammunition.
"The service had long issued a press statement over the incident that happened at the court between its staff and those of Nigerian Correctional Service (NCoS) and pledged to investigate it.
"Though the investigation is ongoing, the preliminary findings are quite shocking considering the ignoble roles played by some public officials.
"As normal with criminal investigations, security agencies re-arrest suspects when there is adequate suspicion of commission of a crime or as may be revealed by an ongoing investigation.
"Emefiele was re-arrested on the basis of this. Even though the re-arrest was tainted by the overzealousness of personnel of the service and NCoS, it was nonetheless legally procedural.
"Later, the service applied for an ex parte order at the FCT high court presided by Justice Edward Okpe (and not Justice Mu'azu as erroneously and massively reported in the media) to detain Emefiele for 14 days.
"Many had gone to town with stories of DSS fragrant disobedience to court orders especially in view of the last episodes at the high courts in Lagos and Abuja.
"With what played out at the court on 27th July 2023 under Justice Okpe, the service immediately applied and obtained a detention order from a magistrate court.
"So, Emefiele is legally detained. For reasons that the Emefiele case is subjudice, the service will restrain from making further comments on the subject matter."
Back to News